'Vaper to Vaper' program to involve teens in getting peers to quit e-cigarettes
UMass Medical School researchers developing mobile apps, supported by National Institute on Drug Abuse grant
Researchers from UMass Medical School's Department of Population & Quantitative Health Sciences are working to develop and test mobile technology involving peer messaging and coaching to help adolescents quit using e-cigarettes.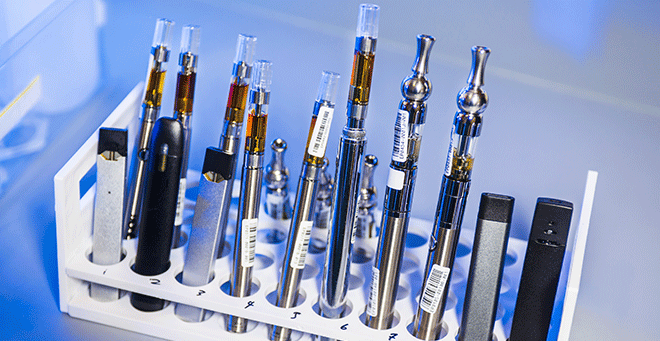 The two-year, $753,750 National Institute on Drug Abuse planning grant builds on previous studies helping adults and adolescents stop smoking combustible cigarettes. But it is among the first evidence-based interventions to target vaping among high school students, a problem the U.S. surgeon general and Food and Drug Administration have called an epidemic.
"If you look at tobacco cessation, the literature shows smoking rates for adults have gone down to about 15 percent from 60 percent. We have had success in developing peer-driven interventions for low-motivated adult smokers and we will adapt these approaches for adolescent e-cigarette users," said principal investigator Rajani S Sadasivam, PhD, associate professor of population & quantitative health sciences. "We're trying to add things that make the experience of quitting vaping e-cigarettes more engaging and fun so that people are open to participating."
The e-cigarette cessation program is called Vaper to Vaper, or V2V.
Working with a team of high school students, researchers will fine-tune text messages and other mobile apps as a "light touch" approach to get youths who use e-cigarettes more committed to quitting and then potentially use more resources to further engage and support them. One motivational approach would be to make participation in the intervention a game.
"Good education, in some ways, has use of game elements, right? It doesn't have to be a video game, but you can add points for setting and achieving goals, framing it like a game," said Sadasivam.
Adolescents' use of e-cigarettes has increased alarmingly over the past few years, said Lori Pbert, PhD, professor of population & quantitative health sciences and co-principal investigator with Sadasivam. "While cigarette smoking among high school students has decreased to 5 percent in 2020 from 16 percent in 2011, now about 20 percent report using e-cigarettes. What is most concerning is that a large percentage of them—around 40 percent—use it 20 or more days a month, which tells you that this is not just experimentation or social use, but that these teens are likely addicted to nicotine."
She continued, "Some e-cigarettes actually provide adolescents with more nicotine than combustible cigarettes. So, many of these youth are becoming more heavily dependent than those who are smoking cigarettes."
Researchers plan to apply practices learned from helping people quit cigarette smoking to adolescents interested in stopping vaping, but there are differences between the two.
"I think everyone understands that cigarette smoking is bad," Sadasivam said. He said there is greater stigma attached to cigarette smoking.
"Adolescents know about the health risks of cigarettes and may also want to quit because of other reasons like sports, where they feel smoking really affects their breathing and impacts their ability to be competitive," said Dr. Pbert.
"With vaping, many adolescents see it as essentially flavored water vapor, a healthy alternative to cigarette smoking. They may not realize most e-cigarettes contain nicotine and other harmful substances, and that teens who use e-cigarettes may be more likely to go on to smoking cigarettes in the future."
Peer influence is one of the biggest factors in promoting e-cigarette use, with many teens starting because they see their friends vaping, according to Pbert.
The project's first phase this summer is to work with an advisory panel of 20 students and key staff from one high school to understand perceived needs for cessation support and hone messages and technological approaches that will engage teenagers.
"Dr. Sadasivam has done such tremendous work with low-motivated adults, and we will take that as a starting point," said Pbert. "We're counting on the students to tear the current program apart and really make it their own."
In the grant's second year, researchers will conduct a small pilot randomized trial among 80 students who use e-cigarettes from four high schools in the region. Researchers will assess the feasibility of the interventions and monitor participants' engagement and satisfaction with the program. Preliminary data on abstinence, time to first quit attempt and amount of e-cigarette use will be evaluated.
Related stories on UMassMed News:
Study: E-cigarettes not associated with greater quitting success among traditional smokers
UMass Medical School training school nurses to help teens quit vaping
LISTEN: UMass Medical School tackles the vaping crisis