Massachusetts residents ages 16 and older are eligible to receive a COVID-19 vaccine as of Monday, April 19, which Gov. Charlie Baker calls a significant milestone in the commonwealth's mission to vaccinate residents and bring the pandemic to a close.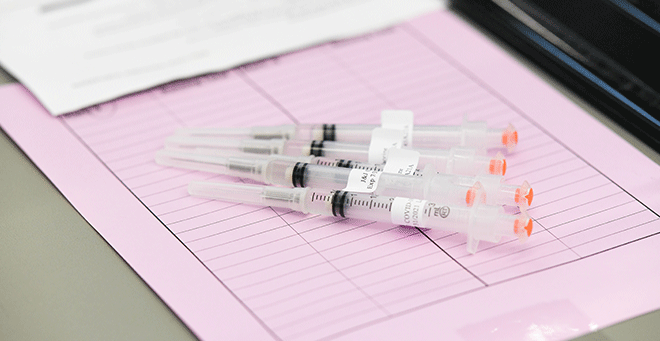 UMass Medical School pediatricians and infectious disease experts said many young patients and their parents are eager to take this step toward immunity. The disease has particularly affected children and adolescents' mental health and social connections; and children have spread the virus, even though severe illness hasn't been as widespread as among older adults.
As with previous stages of increasing vaccine eligibility, there will initially be some hurdles for younger patients.
The only vaccine currently authorized for ages 16 and 17 is made by Pfizer-BioNTech. According to Robert Finberg, MD, distinguished professor of medicine and a member of Gov. Baker's COVID-19 Advisory Group, residents who preregister for a vaccination appointment through the state's scheduling system will be directed to vaccine clinics that offer the age-appropriate authorized vaccine. With limited supply, exacerbated by the pause on the Johnson & Johnson vaccine while regulators investigate a small number of rare, serious potential side effects, teens and newly eligible healthy young adults will have to be persistent and patient.
Dr. Finberg said U.S. Food and Drug Administration authorization for younger teens, ages 12 to 15, is expected within weeks.
Clinical trials are going on for children younger than 12, with the hope that they too will be eligible before the new school year starts in fall.
"So far the data suggest that children respond as well or better than adults and with no additional side effects," Finberg said.
Getting the younger population vaccinated and back to some form of normal activity is an urgent need, according to pediatricians.
Ann Sattler, MD, professor of pediatrics and chief of adolescent medicine said, "Young people have not had such serious infections, but if they're infected, they bring it home to their parents and grandparents."
What's more, she added, "We have not focused enough on mental health."
UMass Memorial Medical Center has seen a 250 percent increase in pediatric psychiatric admissions, Dr. Sattler said. A large percentage of inpatient beds are tied up with teens and young adults, waiting for a psychiatric bed in the community.
Sattler said physicians are seeing increased mental health needs in adolescent medicine and young adult clinics, too.
"This is an especially vulnerable age. They're going through a lot of life transitions: from high school to college, from college to work; social and cognitive transitions. And of course, the lockdown has had a huge impact on that, disproportionally to adults, where social connectedness and social identity aren't such a major developmental task," she said.
Families living in small spaces, under a lot of stress, have also had an increase in intrafamilial violence. "Witnessing that is a lifetime traumatic event that leads to post-traumatic stress disorder," Sattler said.
Adolescents may worry about their parents and grandparents, and they may be working full-time jobs in high-risk positions such as fast food and grocery stores, on top of attending classes remotely, adding to their stress.
"All of these mental health impacts have a lifelong effect on kids this age, with an increased number of disability years due to mental health," said Sattler. "So, this is a critical age in which to try to reduce the number of adverse life events like that. But during the pandemic, we've increased the number of adverse events that they've been experiencing."
Telehealth visits have been helpful, Sattler said, but even remote visits are an issue for teens because it is sometimes difficult to maintain privacy in a Zoom session.
Sattler said she and her primary care colleagues try to talk about anxiety and depression with all their patients, even in check-ups.
And she tries to spend a few minutes talking about becoming eligible for the COVID-19 vaccine and whether they or their parents have any concerns.
While Sattler has read about young people saying they wanted to delay getting vaccinated so people in developing countries, or others who are higher risk, would have more access to vaccines, she would advise them otherwise. "It's a noble idea, but I am encouraging people that they should just go ahead and get it because it will protect them, their family and everybody in the community," she said.
Angela Beeler, MD, associate professor of pediatrics and division chief of general pediatrics, said although COVID infection tends to look more often like a cold in young patients, in some cases, they have developed multisystem inflammatory syndrome after having COVID. "We definitely have kids with that who wind up in the ICU," she said.
Dr. Beeler said that younger children have also shown increased anxiety and mental health problems. But remote schooling, which became the pandemic norm, has worked out well for some kids, who felt less anxious working in a more controlled environment at home.
Beeler is interested in seeing more data as schools reopen. "The data that they're seeing so far is that there are outbreaks of COVID," she said, "But they seem to be more involved with school activities and social events rather than actual classroom time."
Beeler said, "I have a lot of parents who asked across the age span, when will this be available for kids? So, they've definitely had a lot of interest in it."
Related stories on UMassMed News:
UMass Medical School launches Vaccine Corps, backed by philanthropy, to support statewide vaccine rollout
UMass Medical School researchers to start trial of Moderna COVID-19 vaccine in teens