UMassMed Cares employee charitable giving campaign begins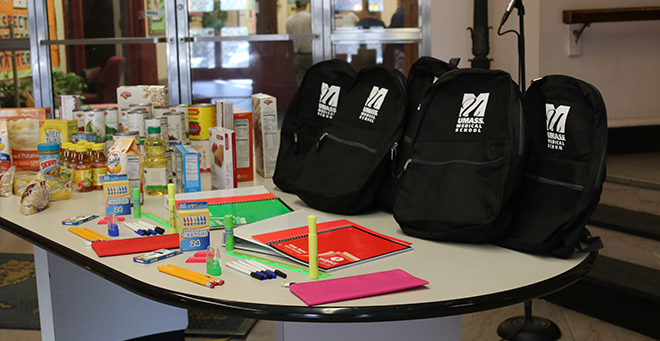 The new UMassMed Cares employee charitable giving campaign has begun. UMassMed Cares, which replaces the Commonwealth of Massachusetts Employees Charitable Campaign or COMECC, allows UMass Medical School employees to direct donations to support a wide variety of educational, research and public service funds and organizations.
Donations to North Quadrant Support Services fund support the longstanding partnership between UMass Medical School and the Worcester Public Schools to help address some of the socioeconomic barriers to academic success faced by local students. The North Quadrant includes some of the most economically challenged neighborhoods in the city of Worcester and students experience challenges ranging from food insecurity to homelessness. Recent initiatives have included playground upgrades, teacher enrichment grants and the purchase of Wi-Fi hotspots to enable remote learning.
Donations to the UMass Medical School Foundation can be directed to these funds:
Medical School research: UMMS is home to some of the world's top researchers who strive to catalyze world-class basic research into scientific discoveries with high impact clinical applications and overcome the barriers in translating knowledge into clinical practice.
Student financial aid: This program provides financially disadvantaged students with opportunities to pursue a medical education.
COVID-19/pandemic research: When the pandemic hit, more than 19 UMMS labs mobilized immediately to focus on the coronavirus. Support for this fund will provide much-needed capital for real-time research activities on COVID-19 and related viruses.
Diversity and inclusion: UMass Medical School strives to promote a culture that celebrates and embraces the values of respect, inclusivity, collegiality and diversity, while simultaneously acknowledging and effectively addressing bias. As part of its strategic plan, institution-wide efforts are underway to educate the UMMS community about the importance of diversity and inclusion and gifts to this fund will assist in those efforts.
And as in the past, donors may still direct their contributions to any of more than 1,000 prescreened nonprofit organizations across the globe through the United Way of Central Massachusetts.
Donations can be made via payroll deduction, credit card, cash or check at www.umassmedcares.org until Wednesday, Nov. 25.
"Earlier this spring as we distributed Wi-Fi hotspots to families at several local elementary schools, I saw firsthand the impact that employee giving can have on our neighbors," said John Erwin, vice chancellor for government relations. "For these families, the Wi-Fi hotspots were essential to enabling their children to learn remotely as the pandemic forced schools to go remote. It was a proud moment for the Medical School."
Related stories on UMassMed News:
UMass Medical School providing aid to Worcester Public Schools summer learning program
LISTEN: UMass Medical School partnership with Worcester schools benefits students
UMMS staff, students provide classroom enrichment to 27 teachers in Worcester's North Quadrant
Worcester Public Schools and UMass Medical School unveil family support services initiative