UMass Medical School volunteers support Working for Worcester Build Day in North Quadrant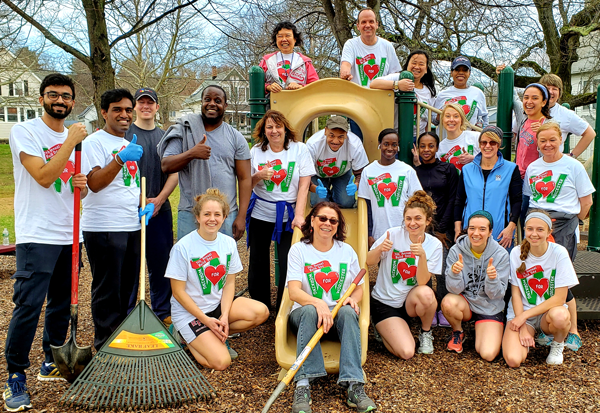 A team of UMass Medical School volunteers joined the Working for Worcester 2019 Build Day on April 13, to assist with projects in the Worcester Public Schools North Quadrant. UMMS volunteers spruced up the grounds outside the Belmont Street School and helped install playground equipment at Lake View Elementary School as part of the citywide undertaking.
Working for Worcester is a partnership of student organizations, local businesses, academic institutions, city government and community groups. This year's event was the seventh annual Build Day, in which more than 1,000 volunteers refurbish and build playgrounds and recreation spaces across the city.
The North Quadrant Support Services initiative was launched by UMMS in 2017 to address some of the socioeconomic barriers to academic success faced by students in the North Quadrant of the Worcester Public Schools. The initiative builds on the highly successful Worcester Pipeline Collaborative academic partnership between UMass Medical School and the North Quadrant, now in its 23rd year.
Each year, UMMS students, faculty and staff donate to a North Quadrant Support Services fund via the Commonwealth of Massachusetts Employees Charitable Campaign, with 100 percent of donations going to services that benefit students and families of the North Quadrant.
Related stories on UMassMedNow:
Day of Service, Night of Fun brings UMMS students together with local community
LISTEN: UMass Medical School partnership with Worcester schools benefits students
UMMS staff, students provide classroom enrichment to 27 teachers in Worcester's North Quadrant
UMass Medical School supports Recreation Worcester summer program