WGBH-TV's Greater Boston: Klempner discusses promising research into a seasonal prevention for Lyme
Antibody could activate immune system against invader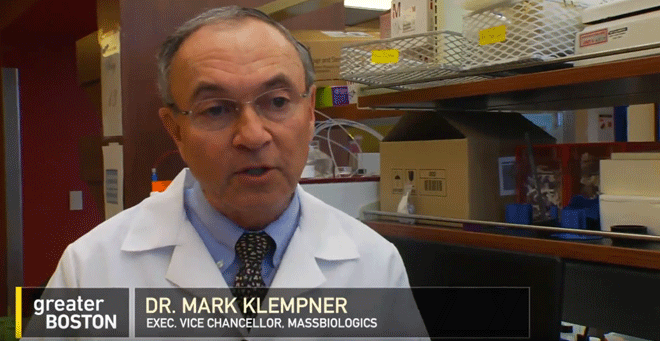 Mark Klempner, MD, executive vice chancellor for MassBiologics of UMass Medical School and professor of medicine, tells WGBH that Lyme PReP could be a "Lyme disease game-changer."
With tick-season upon us, UMass Medical School infectious disease expert Mark Klempner, MD, spoke with WGBH reporter Stephanie Leydon for a TV segment on the Greater Boston show about how MassBiologics is conducting promising research into a potential new weapon in the fight against Lyme disease.
Lyme PReP, or pre-exposure prophylaxis, is much different than a vaccine. As Leydon reported, researchers have made great progress in developing a human monoclonal antibody that has shown great potential in preventing Lyme disease in the lab testing in mice.
Dr. Klempner, executive vice chancellor for MassBiologics of UMass Medical School and professor of medicine, said the Lyme PReP could be a "Lyme disease game-changer."
"(The antibody) would circulate at low concentration in your blood, a tick would come along and bite you, drink your blood that has the antibody in it, kill the bacteria in the tick, and prevent the transmission to you," explained Klempner, in the WGBH-TV interview.
Watch the full story here: http://news.wgbh.org/2016/05/02/local-news/battling-lyme-disease-beacon-hill
Related links on UMassMedNow:
Klempner explains Lyme disease risk in Boston Magazine
Top Story: MassBiologics at UMMS developing pre-exposure prophylaxis to prevent Lyme disease