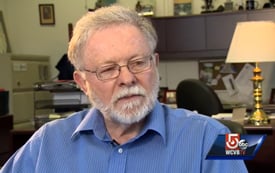 Charles P. Emerson Jr., PhD, director of the Wellstone Muscular Dystrophy Cooperative Research Center at UMass Medical School, explains the progression of the most prevalent form of muscular dystrophy, in a WCVB-TV segment that featured an engaged couple with FSHD visiting Boston for the 2014 Facioscapulohumeral Muscular Dystrophy (FSHD)Connect conference.
"Patients with this disease become very disabled over time and often end up wheelchair-bound," said Dr. Emerson.
Emerson, professor of cell & developmental biology, is working with colleagues at UMMS to further understanding of the underlying molecular, genetic and epigenetic pathologies FSHD, one of the nine primary types of muscular dystrophy, and to translate this basic understanding into the clinic through development of FSHD therapeutics.
Watch the full WCVB-TV segment here:
http://www.wcvb.com/health/engaged-couple-shares-life-love-and-fshd/27678424#!bIdBBx
Related link on UMassMedNow:
Wellstone Center to study muscular dystrophies