Having access to treatment is life-changing, UMMS autism experts tell WCVB-TV's Chronicle
A mother and an advocate talk about the challenges of paying for autism treatment and the welcome relief provided by recent legislation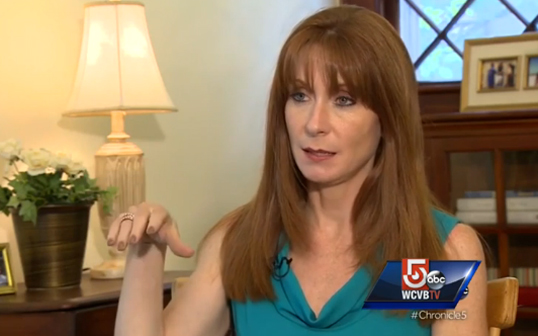 Maura Buckley, MPA, a product manager for UHealthSolutions, part of UMass Medical School's Commonwealth Medicine Division, and Amy Weinstock, director of the Autism Insurance Resource Center at the UMMS Eunice Kennedy Shriver Center, talked about their experiences related to accessing health care and behavioral services for children with autism spectrum disorder, in a segment of WCVB-TV's Chronicle.
Buckley (at right), whose two sons have autism spectrum disorder, describes the heartbreak of watching her sons lose language abilities as symptoms of their regressive autism developed.
"For both my boys, watching them develop typically and then start to lose skills is probably one of the most frightening things a parent can go through," said Buckley.
Autism affects 1 in 68 children, according to the U.S. Centers for Disease Control and Prevention; many states are only now beginning to cover the full range of health and behavioral services for treating autism. For help, Buckley turned to the Autism Insurance Resource Center, which helps parents navigate health insurance plans to identify resources available for treating autism.
Amy Weinstock, director of the Autism Insurance Resource Center, explained the financial challenges many parents face in accessing appropriate care for their children on the autism spectrum, likening the problem to covering cancer treatment without covering chemotherapy.
"It can bankrupt you very, very quickly," said Weinstock, who spent many years pushing to get legislation passed in Massachusetts that requires private insurance companies to cover Applied Behavioral Analysis (ABA) therapy, one of the most effective treatments for children on the autism spectrum. The bill was passed in 2012, and expanded in 2014 to require coverage by MassHealth.
"Many families tell us that having access to the behavioral treatments has enabled them to keep their children at home and to remain in the community," said Weinstock.
Watch the full Chronicle segment here: http://www.wcvb.com/chronicle/autism-paying-the-price-for-treatment/27673580#!bIfNzD