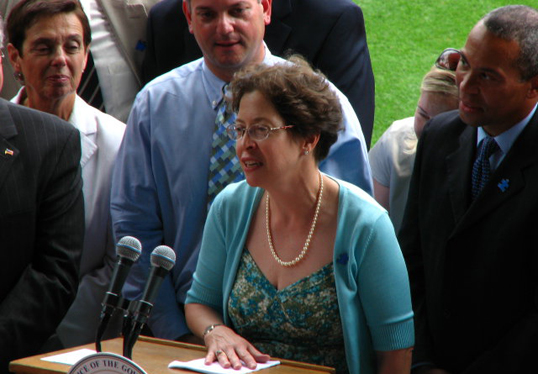 Shriver Center autism insurance advocate Amy Weinstock is pictured here with Governor Patrick when, in 2010, he signed Massachusetts' first law requiring insurance coverage for autism treatment.
The Massachusetts House and Senate's passage of a bill to extend coverage of autism treatment services under public health insurance plans was embraced by members of the autism community statewide. Amy Weinstock and Maura Buckley of UMass Medical School's Eunice Kennedy Shriver Center, both parents of children on the autism spectrum, talked to Charter TV3's Worcester News Tonight about why they believe the legislation is important for families across Massachusetts.
"The [bill] requires MassHealth to cover medically necessary autism treatment services," said Weinstock, director of the Autism Insurance Resource Center at the Shriver Center and mother of a teenager on the autism spectrum.
By requiring public insurers, notably MassHealth, to cover medically necessary autism treatments, including Advanced Behavioral Therapy, an evidence-based behavioral therapy for people with autism that is intensive and long-term, the legislation would provide services to families that may not otherwise be able to afford them. Passed by the state Senate last week, the bill now awaits final approval by the legislature.
The new bill is an outgrowth of the legislation mandating private insurance coverage of medically necessary autism treatment and services. "An Act Relative to Insurance Coverage for Autism," or ARICA, was signed into law by Gov. Deval Patrick at Fenway Park in 2010 with Weinstock at the podium.
"Our bill is one of the most comprehensive of its kind," Weinstock said previously about the original legislation. "Individuals with autism will have coverage for medically necessary treatment with no age caps or dollar limits. And the amount of treatment, just like chemotherapy and radiation for cancer patients, is based on medical necessity, not an arbitrary dollar cap."
By extending this mandate to public as well as private insurers, the new legislation would provide relief to Massachusetts' families affected by autism regardless of income.
"From the very beginning we've needed to pay for speech therapy and occupational therapy and applied behavior analysis. The list is unending," said Maura Buckley, who struggled with finding insurance coverage for services for her two school-aged sons on the autism spectrum.
"It's nice to know that parents are not going to be financially crunched if they want to provide the services that their child needs in the future."
Buckley and Weinstock support other families affected by autism professionally as well as personally in their roles at UMass Medical School and the Shriver Center.
At UDiscovering, an affiliate of the UMMS Commonwealth Medicine division, Buckley is product manager for Discovering Behavioral Intervention: A Parent's Interactive Guide to Applied Behavioral Analysis (ABA). The self-paced, interactive online course was developed by Shriver Center child development experts in partnership with parents to give parents and caregivers a comprehensive knowledge of ABA, a therapy used by both public and private school systems to teach children on the autism spectrum.
"ABA is one of the most commonly prescribed therapies and has a huge body of evidence supporting its efficacy to help people with autism," Weinstock told Worcester News Tonight.
Formerly a banker, Weinstock conceived the 2010 law when she was a fellow of the Shriver Center's Leadership Education in Neurodevelopmental Disabilities (LEND) program while researching national insurance policies and practices for ABA. As chair of the Insurance Committee for Advocates for Autism of Massachusetts, she, with several other Shriver colleagues, advocated for passage of the legislation. In 2012 she became the Autism Resource Insurance Center's founding director.
The current bill also establishes a 35-member commission to address the long-term needs of individuals with autism, including housing and employment for adults with autism. Buckley and Weinstock are optimistic that the final bill will land on the governor's desk for signature later this summer.
"It's a natural evolution of a process that's been ongoing for a long time," said Weinstock. "Our state has a strong commitment to people with developmental disabilities and autism."