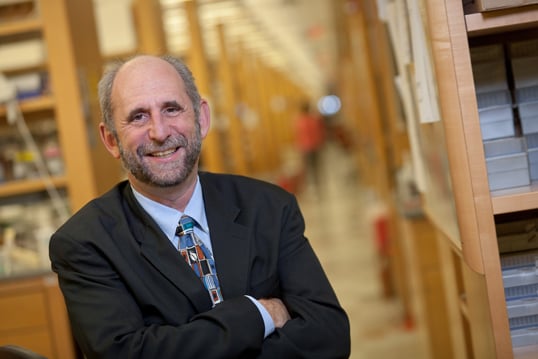 The National Academy of Sciences has announced the election of Michael R. Green, MD, PhD, Howard Hughes Medical Institute Investigator, the Lambi and Sarah Adams Chair in Genetic Research, professor of molecular medicine and biochemistry & molecular pharmacology, and director of the Program in Gene Function and Expression, for his distinguished and continuing achievements in original research. Dr. Green (right), the fifth UMMS faculty member to be named to the national academies, is among 84 new members and 21 foreign associates from 15 countries.
The National Academy of Sciences is a private, non-profit society of distinguished scholars. Established by an act of Congress signed by President Abraham Lincoln in 1863, it is charged with providing independent, objective advice to the nation on matters related to science and technology. Scientists are elected by their peers to membership in the NAS for outstanding contributions to research. As the role of science has expanded in the United States, the National Academy has grown to include the Institute of Medicine, the National Academy of Engineering and the National Research Council.
Green joins two colleagues in the National Academy of Sciences: Nobel laureate Craig C. Mello, PhD, Howard Hughes Medical Institute Investigator, the Blais University Chair in Molecular Medicine and distinguished professor of molecular medicine and cell & developmental biology, and Victor Ambros, PhD, the Silverman Chair in Natural Sciences and professor of molecular medicine.
Robert H. Brown Jr., DPhil, MD, the Leo P. and Theresa M. LaChance Chair in Medical Research and chair and professor of neurology, and John Ware, PhD, professor of quantitative health sciences and chief of the Outcomes Measurement Division, are members of the Institute of Medicine.
Green studies the mechanisms that regulate gene expression in eukaryotes and the role of gene expression in various human disease states. He also uses transcription-based approaches and functional screens to identify new genes and regulatory pathways involved in cancer. These studies are intended to enhance understanding of how normal cells become cancerous and to reveal potential new targets for therapeutic intervention.
Green received his MD and PhD degrees from Washington University School of Medicine in 1981. He was awarded a Helen Hay Whitney Postdoctoral Fellowship to perform postdoctoral work at Harvard University in the Department of Biochemistry and Molecular Biology. He became a faculty member in that department at Harvard in 1984, where he remained until he joined the Program in Molecular Medicine at UMMS in 1990. He has been the recipient of the Searle Scholar Award, the Presidential Young Investigators Award, the McKnight Neuroscience Award, and in 1993 was invited to deliver a Harvey Lecture. In 1994, Dr. Green was made an investigator of the Howard Hughes Medical Institute.
Related links on UMassMedNow:

Classic laboratory manual gets dramatic update

In research retreat keynote, Green highlights unique UMMS resources