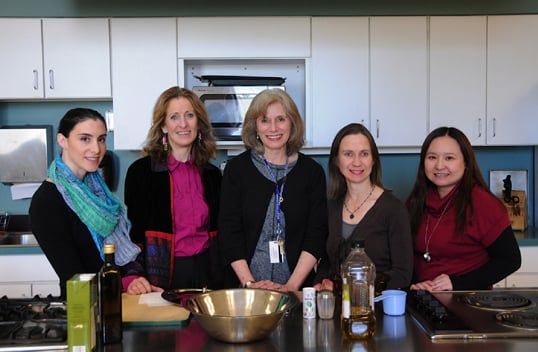 Pictured here ready to teach an IBD-AID cooking class are IBD-AID principal investigator Barbara Olendzki (second from left) with Division of Applied Nutrition colleagues (from left) Gioia Persuitte, MPA; Judy Palken, MNS, RD, LDN; Victoria Andersen, MS, RD, LDN; and Effie Olendzki.
Surprisingly, there are few dietary guidelines to help patients with inflammatory bowel disease cope with debilitating symptoms that include severe abdominal pain and diarrhea.
But now a new diet developed at UMass Medical School could significantly improve the lives of the millions of adults and children suffering from inflammatory bowel diseases such as ulcerative colitis and Crohn's disease.
"IBD patients are demanding it, but at the moment doctors don't have any evidence-based dietary guidelines to recommend," said dietitian and nutrition research Barbara Olendzki, RD, MPH, assistant professor of medicine in the Division of Preventive and Behavioral Medicine and director of the UMMS Center for Applied Nutrition. "Our aim is to provide a dietary therapy approach that addresses nutrient adequacy, malabsorption issues and symptom relief, and facilitates remission. We hope to show through further research that this may alter the course of the disease."
In a small, retrospective case study of the IBD Anti-inflammatory Diet (IBD-AID) created by Olendzki and colleagues and published in Nutrition Journal, all of the patients who adhered to the diet for at least four weeks experienced significant reduction in their symptoms, and all were all able to discontinue at least one of their IBD medications.
Loosely based on the more restrictive Specific Carbohydrate Diet (SCD), the anti-inflammatory diet limits some carbohydrates such as refined sugar, gluten-based grains, and certain starches that are thought to stimulate the growth of inflammatory bacteria in the digestive tract, and adds pre-and probiotics to help restore an anti-inflammatory environment.
"We hypothesize that specific dietary modifications may significantly alter the intestinal microbiome and improve nutrient absorption, which in turn alters the immune response in such a way as to reduce disease activity and improve outcomes," Olendzki explained. "Unlike SCD, AID includes all three macronutrients—protein and fats as well as carbohydrates—to provide more nutrients that may protect against inflammation."
Olendzki plans to conduct further research to determine the actual composition of the bacterial microbiota that is promoted by the anti-inflammatory diet in order to assess correlations with symptoms and disease progression.
"We are eager to further test the hypothesis that the IBD-AID promotes favorable changes in the microbiota that translate to improved symptomatology and overall quality of life observed in our preliminary studies," Olendzki said. "We want to bring more attention to this disease and change the treatment paradigm to one where patients can do something for themselves."
An IBD-AID spring menu: varied, nutritious and delicious
The Anti-Inflammatory Diet for IBD (IBD-AID) is a nutritional regimen that restricts the intake of some carbohydrates such as refined sugar, gluten-based grains and certain starches from the diet. These carbohydrates are thought to provide a substrate for pro-inflammatory bacteria.
Far from limiting patients' food choices, the IBD-AID offers a range of delicious and nutritious selections, including breads and baked goods. A sample menu follows.
Breakfast: Banana Fruit Smoothie
Lunch: Sandwich Bread, filled with White Bean Avocado Dip
Soup: Beef and Oat Soup, or meat-free Curried Butternut Squash Bisque
Dinner: Shepherd's Pie, Thin Crust Pizza or Zucchini Lasagna
Salad/vegetable: Spinach Salad with Manchego Cheese or Snow Pea Saute
Dessert: Cinnamon Coffee Cake with Avocado Ice Cream or Frozen Fruit Sorbet