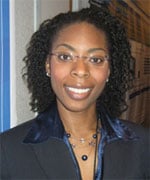 Christina Dorell, MD, MPH
To improve human papillomavirus (HPV) vaccination rates, health care providers should actively address the concerns of parents who initially delay or refuse the vaccine for their adolescent daughters because many may eventually change their minds, according to a study by a UMass Medical School researcher and colleagues at the Centers for Disease Control.

"It's important to continue to emphasize to pediatricians that they need to have these conversations, and keep having these conversations even if parents delay or refuse the vaccine at first," said Christina Dorell, MD, MPH, associate medical director in the Office of Clinical Affairs at the Center for Health Policy and Research. "Our research showed that there are different levels of delay or refusal. Eighty percent of people who said they delayed the vaccine before they were interviewed for the survey eventually started or intended to start the vaccine series."
The study, published in Clinical Pediatrics, used data from the 2010 National Immunization Survey for Teens to identify the most common reasons for refusing or delaying the vaccine: concern about its effectiveness or necessity, possible long-term health problems related to the vaccine and the feeling that the teen was not sexually active or did not need the vaccine. These reasons were more frequently reported by those who refused the vaccine, rather than just delaying.
HPV is a common sexually transmitted disease that can cause cervical and other genital cancers. Although the U.S. Advisory Committee on Immunization Practice recommends HPV vaccination for females between age 11 and 26, coverage remains low, with 53 percent of girls receiving at least one dose and only 30 percent receiving the recommended three doses, according to 2012 National Immunization Survey from the CDC. The guidelines also recommend boys between age 11 and 24 receive the vaccine.
Almost 70 percent of the parents of 4,103 girls in the study did not refuse or delay the vaccine. Of the parents who did delay or refuse, a higher proportion was white and had higher income and education levels.
"Inquiring about parents' reasons for delay or refusal and seeking opportunities to address concerns or barriers through ongoing discussions may help increase acceptance among parents who delay or refuse vaccinations," the report concluded.
"Parents are willing to get the HPV vaccine, once they receive a recommendation," said Dr. Dorell. "The majority of parents are not delaying or refusing. They are willing to have the conversation."
Related links on UMassMedNow:
UMMS faculty work to boost HPV vaccination rate