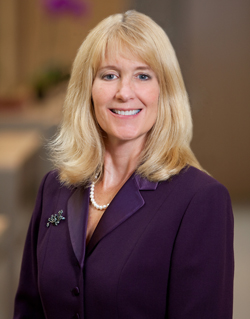 For her extraordinary, innovative and far-reaching contributions to advancing women leaders in academic medicine, Luanne Thorndyke, MD, has been named the 2013 recipient of the individual Leadership Development Award by the Group on Women in Medicine and Science Leadership of the Association of American Medical Colleges. The annual award recognizes an individual who promotes women's leadership in academic medicine. Dr. Thorndyke is vice provost for faculty affairs and professor of medicine.
"Dr. Thorndyke is an extraordinary role model and mentor for women in medicine," Terence R. Flotte, MD, the Celia and Isaac Haidak Professor of Medicine, executive deputy chancellor, provost, dean of the School of Medicine and professor of pediatrics said. "She has helped women find their path to leadership in academic medicine, a path that she has established and opened for others through her own accomplishments."
"Building things where there was nothing before is what I like to do," said Thorndyke."I've tried to create opportunities for both women and men, and ensure that women take advantage of them."
Thorndyke became aware of disparities in health care when the rural town in Nebraska where she grew up went from having three local physicians to none. By the time she was in high school, she and her neighbors had to travel 30 to 40 miles for medical care, an experience that informed her decision to go into medicine.
At the same time, Thorndyke was blessed with a remarkable early role model and mentor—a female anesthesiologist whose teenage daughters, like Thorndyke, raised and showed horses.
"She had two different personas, her professional one and one as a wife and mother," Thorndyke recalled. "She was a role model for being all the things I wanted to be."
After completing pre-med studies while majoring in religion at Duke University, Thorndyke returned to her home state to attend the University of Nebraska College of Medicine. Immediately after residency, she and a fellow new internist took a risk and borrowed money to strike out on their own, bootstrapping a community-based primary care practice in inner city Philadelphia—one that has grown exponentially and exists to this day.
Thorndyke's gradual transition from clinical practice to academic leadership began with a family move and new jobs at the Pennsylvania State College of Medicine, including as medical director of its first offsite internal medicine faculty practice. Like her previous private practice, this grew from a "little outpost with three internists and one physician assistant" to the school's major practice site for general internal medicine faculty.
Establishing these thriving, nontraditional clinics is one of the accomplishments Thorndyke is most proud of. She is also proud of creating the Junior Faculty Development Program at Penn State, which she brought to UMMS. It has become a recognized model for faculty development, mentoring and program evaluation nationwide.
"It was a strategic decision to offer a program that is gender-neutral and inclusive while it gives women greater access to opportunities to develop their careers," she explained. "Not just a couple of luncheons, we set up a comprehensive program meant to give junior faculty the skills they need."
Last year, UMMS was awarded a $250,000 grant from the American Council on Education and the Alfred P. Sloan Foundation based on Thorndyke's innovate initiatives to support career flexibility for academic faculty.
Examples include the Faculty Scholar Award that was developed by the Women's Faculty Committee and the Women's Leadership Work Group under the oversight of the Office of Faculty Affairs. Open to all qualified faculty, the award enables individuals on less traditional career paths to continue or initiate research during a period of increased family care responsibilities.
"When I heard about the AAMC award I was speechless," Thorndyke said. "It is humbling to get recognition from my peers."
"The strong support I have received from Dean Flotte and UMMS leadership reflects their belief that faculty are worth investing in," she said. "Opportunities like the Junior Faculty Development Program represent the institution's investment in and commitment to the faculty who, in turn, advance the mission of the institution."