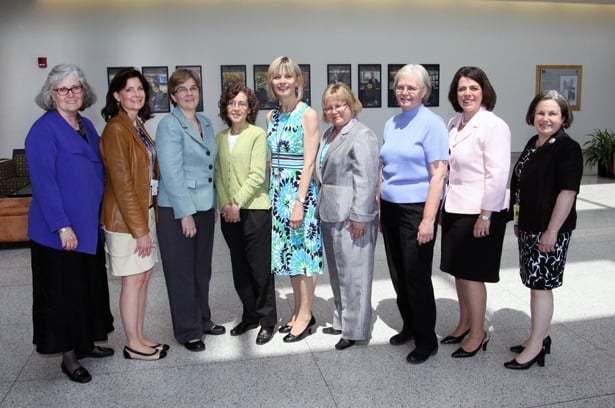 Winners of the 2013 Women's Faculty Awards with co-chairs of the Women's Faculty Committee are (from left) Patricia Franklin; Julia Andrieni; co-chairs Rebecca Lundquist, MD, assistant professor of psychiatry and Sybil Crawford, PhD, professor of medicine; Kathryn Edmiston; Elizabeth Murphy; Trudy Morrison; Kristina Deligiannidis; and Marian Manno.
Seven women were honored at the 13th Annual Women's Faculty Awards Luncheon, celebrating excellence in community service, education, science and health, patient care and mentorship. The event was held May 20 at UMass Medical School.
The Women's Faculty Committee sponsors the awards, which were presented following the keynote presentation "Mentoring and Leadership on the Journey" from Jean King, PhD, professor of psychiatry. Dr. King was the recipient of the 2012 Outstanding Mentor Award.
2013 Women's Faculty Awards and honorees are:
Outstanding Community Service Award
Mariann Manno, MD, professor of pediatrics and emergency medicine
Sarah Stone Excellence in Education Award
Trudy Manchester, MD, clinical associate professor of medicine
Elizabeth Murphy, MD, clinical associate professor of medicine
Early Career Achievement in Science and Health Award
Kristina Deligiannidis, MD, assistant professor of psychiatry
Women in Science and Health Achievement Award
Patricia Franklin, MD, MBA, MPH, professor of orthopedics & physical rehabilitation and family medicine & community health
Excellence in Clinical Services Award
Kathryn Edmiston, MD, associate professor of medicine
Outstanding Mentor Award
Julia Andrieni, MD, the Joy McCann Professor for Women in Medicine and professor of medicine
------