Depression expert calls deep brain stimulation results promising
Rothschild compares unblinded and double-blinded studies for treatment-resistant depression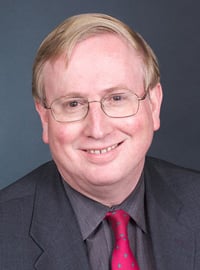 Anthony Rothschild, MD
The remarkable results of a recent clinical trial for patients with treatment-resistant depression are being met with cautious optimism by experts. UMass Medical School physician-scientist Anthony Rothschild, MD, notes that further research is needed to confirm the outcomes of the pilot study, published in Biological Psychiatry, in which six out of seven patients experienced rapid and dramatic improvement after receiving deep brain stimulation (DBS) in the medial forebrain bundle, one of several areas of the brain associated with mood disorders.
"The author himself points out the limitations of the study's small size and its being unblinded. Every patient knew they were receiving the treatment, which increases the likelihood of a placebo effect" said Dr. Rothschild, the Irving S. and Betty Brudnick Endowed Chair and professor of psychiatry. "Studies like these are important first steps but, until you do the double-blind study in which some patients have the device turned on, and some do not, and the patients don't know which group they are in, you can come to inaccurate conclusions."
DBS is a treatment in which an electrode attached to a pacemaker-like device delivers small pulses of current to structures deep within the brain in an effort to help regulate the brain's own signals that are not working properly. Already FDA-approved for treatment of Parkinson's disease, DBS is now being tested in several areas of the brain associated with depression.
Rothschild, who for more than 30 years has researched treatments and helped patients recover from depression, is an investigator in the Brodmann Area 25 Deep Brain Neuromodulation (BROADEN) clinical trial, a controlled, multi-site, double-blind study to evaluate the safety and effectiveness of DBS in Broadman 25, another area of the brain strongly linked to depression, in patients with treatment-resistant depression. BROADEN follows up on promising results from initial small, unblinded pilot studies like the recent anterior forebrain bundles study.
"Treatment-resistant depression is a horrible disease. It can result in death, and people who live with it often have very difficult lives," said Rothschild. "These impressive findings in the medial forebrain bundle must now be replicated in a double-blind fashion, like the study we're doing with Brodmann Area 25—that's the way to prove it."
Related links on UMassMedNow:
New hope for treatment-resistant depression
Antidepressant expert creates user-friendly book
Efforts to fight depression earn national recognition