Caution urged on robotic surgery
UMMS faculty applaud state's push to improve results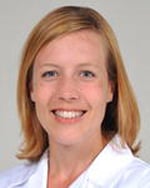 Jennifer Yates, MD
Promising less blood loss, shorter hospital stays and faster recoveries than open procedures, robot-assisted surgeries are on the rise. But with reports of patient complications also increasing, the Quality and Patient Safety Division of the Massachusetts Board of Registration in Medicine has issued an advisory to Massachusetts hospitals about potential risks associated with the relatively new and still not widely studied technology.


"In the past couple of years the field of robotics has expanded so much, and this explosion of utilization is what has caught the public's attention," noted Jennifer Yates, MD, assistant professor of urology and director of minimally invasive urologic surgery for UMass Memorial Medical Center. "There's a huge benefit to robotic technology in certain cases, but it's very important for us to realize the limitations of robotics and not get too caught up in the excitement over the technology."
Julia Johnson, MD, chair and professor of obstetrics & gynecology, couldn't agree more.
"Anytime you have a new surgical tool, you really have to look at it and understand what the best uses are for that tool, and so I think this advisory is very informative," she said. When it comes to robot-assisted hysterectomy in particular, "It's important when patients talk to their gynecologist to look at themselves as individuals and to understand why whatever method is recommended is best for them."
Dr. Yates and Dr. Johnson further agree with the safety division's recommendation that hospitals ensure that surgeons are proficient in robotic surgery before allowing them to operate, and that doctors carefully screen patients for risk factors. Both also look forward to further research that will establish evidence-based guidelines for when and when not to use robotic techniques for specific surgeries.
In this Expert's Corner video, Dr. Johnson reviews what physicians and patients should consider when comparing surgical options for hysterectomy.