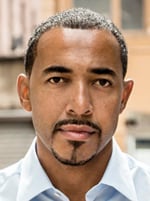 Sampson Davis, MD, was one of six children raised in a single parent home in one of the poorest neighborhoods in Newark, N.J. But despite the odds stacked against them, with determination, hard work and each other's support, Dr. Davis and two likeminded friends who also become physicians prevailed over adversity on the mean streets to become what Oprah Winfrey called "premier role models of the world." On Friday, Feb. 8, UMass Medical School will welcome Davis as the keynote speaker for its celebration of Black History Month.
Today, Davis is an emergency medicine physician at St. Michaels Medical Center in his hometown, and a consultant for the Essex County Violence Prevention Institute focusing on gang awareness and preventive medicine. Along with his childhood friends Rameck Hunt, MD, and George Jenkins, MD, Davis previously co-authored three inspiring books about their lives: The Pact, We Beat the Streets, and The Bond. They also established theThree Doctors Foundation with its mission to inspire and motivate youth to achieve leadership and career success through education and the formation of positive peer and mentor relationships.
In his latest book out this month, Living and Dying in Brick City: An E.R. Doctor Returns Home, Davis examines the health care crisis in the inner city from his perspective as a doctor who works on the front line of emergency medical care in the community where he grew up—and where conditions like asthma, heart disease, stroke, obesity and HIV/AIDS are disproportionately endemic—and as a member of that community who has faced the same challenges as the people he treats every day.
The Black History Month program will take place on Friday, Feb. 8, in the Faculty Conference Room from 11:30 a.m. to 1 p.m. A light lunch will be available. Copies of Living and Dying in Brick City: An E.R. Doctor Returns Homewill be available for purchase and signing by Davis. RSVP to fernanda.gama@umassmed.edu.