Flotte recognized for leadership in biomedical research
Will be honored at celebration of Massachusetts Biomedical Research Day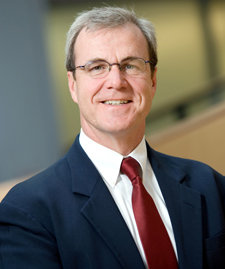 Dean Terence R. Flotte, MD
Terence R. Flotte, MD, theCelia and Isaac Haidak Professor in Medicine, executive deputy chancellor, provost and dean of the School of Medicine, and professor of pediatrics and microbiology & physiological systems, will be honored by the Massachusetts Society for Medical Research (MSMR) for his leadership in gene therapy research and education. He is one of five individuals who will accept awards for their contributions to biomedical research in the commonwealth at a celebration of Massachusetts Biomedical Research Day taking place at the State House in Boston on Oct. 18.


Dr. Flotte is an internationally renowned gene therapy investigator whose research has been funded by the National Institutes of Health, the Cystic Fibrosis Foundation and the Juvenile Diabetes Research Foundation. Named provost and dean of the School of Medicine in 2007, he has been instrumental in establishing the UMMS Advanced Therapeutics Cluster (ATC) for research into new therapies for many debilitating diseases, while leading an active research program and maintaining a pediatric pulmonology practice. He has also volunteered internationally as a member of medical missions, including the response to the devastating 2010 earthquake in Haiti. A recipient of numerous honors, Flotte was most recently elected to a five-year term on the Advisory Council of the American Society of Gene & Cell Therapy (ASGCT) and named associate editor of the journal Human Gene Therapy.
"This year we have an embarrassment of riches, as several of the honorees could be counted in multiple categories. Dr. Flotte, for example, is being honored for his research, but he has also been an outstanding educational leader," said Alan Dittrich, PhD, president of MSMR.
Each year since 2007, the MSMR has recognized Massachusetts investigators, educators, business leader and legislators—including UMMS faculty Jerald Silverman, DVM, MPS, professor of pathology, and Aldo A. Rossini, MD, professor emeritus of medicine and molecular medicine—for their contributions to biomedical research and education in the commonwealth. Honorees are selected by the MSMR Board of Directors, whose past members include John L. Sullivan, MD, professor of pediatrics, and Albert Sherman, former vice chancellor for university relations, for whom the soon-to-open state-of-the-art research center is named.
Related links:
Dual gene therapy approach may treat AAT lung, liver disease
Flotte named associate editor of Human Gene Therapy
Flotte elected to ASGCT Advisory Council
International impact: Dean Flotte revisits Haiti