Newsmaker: Weld, Cellucci reunite in fight against ALS
Fundraiser to benefit UMass ALS Champion Fund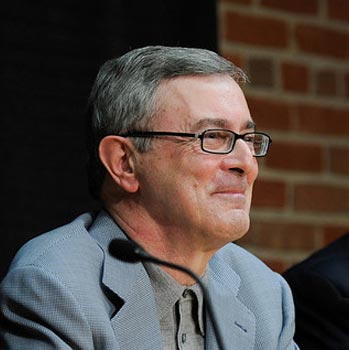 With the support of former Gov. Cellucci, UMMS last year launched the UMass ALS Champion Fund.
Former Massachusetts Governor William Weld will make a heartfelt return to the Bay State this week, in a show of support for his gubernatorial successor and dear friend Paul Cellucci, who is pushing to raise $10 million for the UMass ALS Champion Fund while confronting amyotrophic lateral sclerosis (ALS) himself.
Newsmaker: Chancellor Michael F. Collins is quoted in the Thursday, March 15, Boston Globe story previewing the UMass ALS Champion Fund fundraiser. Read the full story:

Political partners reunite to fight ALS
Weld, who depended on former Gov. Cellucci as his lieutenant governor during his administration, is going to bat for Cellucci now, hosting a major fundraiser at the Seaport Boston Hotel on Thursday, March 15, and attracting a large crowd of distinguished elected officials and corporate giants. Biogen Idec, Inc. CEO George Scangos, PhD, is among the confirmed guests and is scheduled to announce a significant donation at the event.
"I'm hosting this fundraiser to raise critical research dollars for the UMass ALS Champion Fund and to honor my dear friend Paul Cellucci and his valiant struggle with this disease," Weld said. "ALS is a debilitating and terminal disease that affects the body's neurological system and there is no cure or therapies effective for the long term."
With the support of Cellucci, UMass Medical School last year launched the UMass ALS Champion Fund to raise funds to support the research of Robert H. Brown Jr., DPhil, MD, chair and professor of neurology and a world leader in ALS research. Dr. Brown, founder of the Day Neuromuscular Research Laboratory, has worked to develop an RNA interference-based approach that may herald a treatment for certain neurodegenerative diseases.
Cellucci, who announced his ALS diagnosis last year, is under the care of Dr. Brown.
"Fundraising, like research, is a team sport," said Chancellor Michael F. Collins, who will attend the fundraiser, along with Brown. "It has been incredible to see the team that has rallied around Governor Cellucci and our medical school since we launched the UMass ALS Champion Fund 10 months ago."
Massachusetts Lt. Gov. Tim Murray, Boston Mayor Thomas M. Menino and former Massachusetts Gov. Jane Swift are also expected to attend the event.
To find out how you can support the UMass ALS Champion Fund, call 508-856-3665, email events@umassmed.edu or visit www.umassals.com. Log on to UMassMedNow on Friday to read full coverage of the fundraiser, including more details on the major donation from Biogen Idec.
Related links:
UMass/ALS Champion Fund
Boston Marathon runners train in support of ALS research
Wanted: Boston Marathon runners to support ALS research
Gov. Cellucci talks about raising money for ALS research
Donation gives greater visibility to UMass ALS Champion Fund
Cellucci takes ALS fight to center field at Fenway
A pitch to raise millions for ALS research