Connecting high school science teachers to cutting-edge research
Regional Science Resource Center and MassAHEC Network host Frontiers in Science
---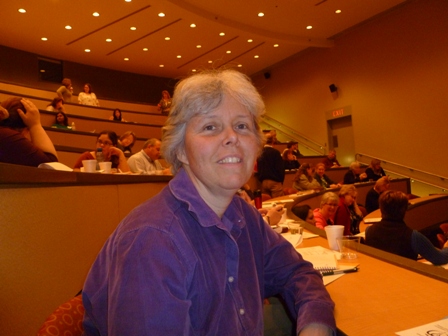 Massachusetts high school science teachers, including Mary Duane, pictured here, will share real-world knowledge gained at Frontiers in Science to excite their students about careers in science.
Stem cells, genetics and neuroscience are heady topics for the scientists who study them—and exciting new curricular fodder for the dozens of Massachusetts high school science teachers who learned about cutting-edge biomedical research in these fields at the 25th annual Frontiers in Science Conference. Held at UMass Medical School on Monday, March 26, Frontiers in Science is one of a series of events hosted by the UMMS Regional Science Resource Center (RSRC) and the Massachusetts Area Health Education Center (MassAHEC) Network during Innovation Month in the Worcester Public Schools and Central Massachusetts.
Created by the RSRC in partnership with other members of the Central Massachusetts Science, Technology, Engineering and Math (STEM) Network, Innovation Month advances network members' shared goal to improve STEM education and increase the number of students interested in related careers. Frontiers in Science, which differs from other Innovation Month activities that directly involve students, supports high school science teachers in their role as formative conduits between young students and the opportunities that await them as potential future scientists.
The Frontiers in Science professional development seminars feature UMMS scientists who present the latest advances in science and medicine being made in their own laboratories. Following a brief introduction by Heather Ayers, senior educational manager for the New England Regional Office of The College Board, attendees were treated to the equivalent of three seminars that presented doctoral-level science in a teen-friendly way. This year's presentations were "Induced Pluripotent Stem Cells To Model Type 1 Diabetes," byRene Maehr, PhD, assistant professor of molecular medicine; "Small RNA function in genetic conflict resolution,"by William Theurkauf, PhD, professor of molecular medicine; and "Drugs of Abuse and the Brain," by Sonia Ortiz-Miranda, PhD, research assistant professor of microbiology & physiological systems.
"It's wonderful to bring back to my classroom the cutting edge information that the researchers have presented to us," said Mary Duane, who teaches biology at Tantasqua Regional High School in Sturbridge. "I can go back and tell my students, 'This is what's happening in the real world. This is where our future lies. You can get involved and become the people giving these presentations.'"
Before beginning his presentation, Dr. Theurkauf led a round of applause for the educators in attendance. "Teachers have a very hard job and an absolutely critical role in keeping the scientific enterprise running," he said. "They inspire the next generation of biomedical scientists, and communicate the value of science to the rest of the public." As he told attendees about the state-of-the-art techniques being used to study genetics at UMMS, including confocal microscopy and deep sequencing, technologies he said have changed the way we do science, Theurkauf's enthusiasm about his own career was evident. "Working as a professional scientist is a privilege, and outreach is a way of giving back to people who make it possible. It's also a lot of fun!"
Related links:
New insights revealed in the defense of genetic parasites
The Regional Science Resource Center
MassAHEC Network