Tay-Sachs experts interviewed on progress of gene therapy trials
Miguel Sena-Esteves talks about the promise of clinical trials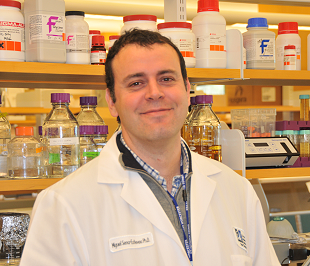 Miguel Sena-Esteves, PhD
Miguel Sena-Esteves, PhD, associate professor of neurology and a leading force behind the creation of the Tay-Sachs Gene Therapy Consortium, an international collaboration of scientists committed to translating current gene therapy results into a human clinical trial for Tay-Sachs, was interviewed by WBUR reporter Carey Goldberg about the progress the group has made. Goldberg was a panel moderator at the National Tay-Sachs & Allied Diseases Association (NTSAD) fundraising event in Cambridge.
Tay-Sachs disease is a devastating neurological disorder characterized by deterioration of mental and physical abilities starting at six months of age, usually resulting in death by the age of five. It is one of 40 rare, inherited metabolic disorders called lysosomal storage diseases that result from a breakdown in a cell's ability to remove or recycle waste products due to a missing enzyme. The gradual build up of waste inside the cell eventually results in cell death and causes the slow breakdown of motor and neurological function in patients.
Dr. Sena-Esteves, who joined UMMS in 2009, and his colleagues in the NTSAD-backed consortium, anticipate that clinical trials might start as soon as late next year for a gene therapy treatment for Tay Sachs. The proposed trials employ a recombinant adeno-associated virus vector to replace the faulty gene that produces the enzyme responsible for removing and recycling waste products in cells. Once introduced into brain, the functioning gene begins making the missing enzyme, turning parts of the brain into mini-factories. Capitalizing on the natural pathways of the brain, those enzymes are then distributed throughout the brain, allowing cells to resume their natural metabolic functions and remove waste products.
Terence R. Flotte, MD, the Celia and Isaac Haidak Professor in Medicine, executive deputy chancellor, provost, dean of the School of Medicine and professor of pediatrics and microbiology & physiological systems and an expert in gene transfer technology, was a featured speaker at the NTSAD event. Dr. Flotte was also quoted in the story.
Read the full story here: First Human Gene Therapy Trial Planned For Deadly Tay-Sachs Disease
Related links on UMassMedNow:
Radio Boston: Tay-Sachs expert talks about gene therapy trial
Sena-Esteves named outstanding new investigator