Halloween costume drive to benefit refugee children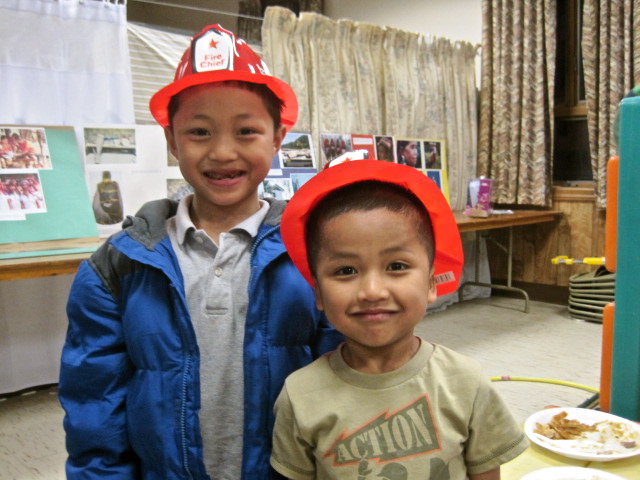 The Halloween costume drive sponsored by Quinsigamond House will benefit children served by the Worcester Refugee Assistance Project, some of whom are pictured here.
While Halloween is a cherished tradition for kids who grow up in this country, it can seem downright bizarre to the uninitiated, what with the scary symbolism and the door-to-door demands for candy. As a way to engage refugee children from Burma living in the Worcester community in the customs surrounding this fun holiday, a group of medical students from Quinsigamond House is holding a Halloween costume drive so these children can experience Halloween firsthand. The costume drive will take place on the Worcester campus from Monday, Oct. 3, through Friday, Oct. 21, with donation bins in the student lounge, the Lamar Soutter Library, the LRB on the Worcester campus and at the South Street campus in Shrewsbury.

Second-year medical student Sarah Tracy came up with the idea of a costume drive as a result of her work with children in the Worcester Refugee Assistance Project (WRAP), which helps refugees from Burma build new lives in this country. "We were making paper masks and some of the children told me how they knew about Halloween, but didn't have costumes to wear," Tracy said. "I asked if they would like to dress up for Halloween this year and they enthusiastically said 'YES!'"
"The goal of the drive, in addition to making some kids very happy, is to give Quinsig students another opportunity to volunteer with WRAP and learn from refugees from Burma who are now living in Worcester," said Tracy. "We hope to teach families about the American Halloween tradition of trick-or-treat and hold a Q&A session, since they may already know a bit about it, but will likely have questions."
When the costumes are delivered to the refugee children on Oct. 24 at the WRAP Resource Center, WRAP volunteers, including Tracy, are also planning to discuss trick-or-treat safety and provide information that will help parents set guidelines for regulating kids' candy intake, post trick-or-treat.
GSBS Cares, a community service organization of GSBS students, is also pitching in to spread the word about the Halloween costume drive.
If you have new or gently used costumes you would like to donate, drop them in a marked collection bin in the library, the student lounge or the LRB on the Worcester campus or on the South Street campus. Your donation will make a lucky child very happy. For additional information about the costume drive, contact Sarah Tracy at sarah.tracy@umassmed.edu.
For more information about the Worcester Refugee Assistance Project, visit its website.
Related links on UMassMedNow:
Empowering a community
Student Awards support local health projects
GSN student helps refugees from Burma build lives in their new country
Ice time for students and refugees