Arthritis Foundation honors UMMS rheumatologist
Ellen Gravallese, MD, receives the Marian Ropes Physician Achievement Award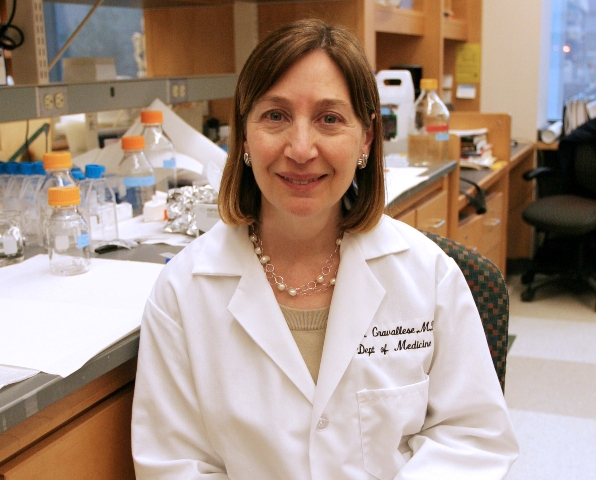 Ellen Gravallese, MD
Ellen Gravallese, MD, professor of medicine and cell biology and chief of rheumatology and director of translational research for the UMass Memorial Musculoskeletal Center of Excellence, was honored on Sept. 13 with the Arthritis Foundation's Dr. Marian Ropes Award for Excellence in Arthritis Care and Leadership.
A highly regarded clinician and basic scientist, Dr. Gravallese has dedicated her career to caring for patients with rheumatoid arthritis (RA), a chronic autoimmune disease, and has focused her research on the mechanisms by which inflammation in synovium, the soft tissue lining joints, leads to joint cartilage and bone destruction. Her laboratory has identified key molecular and cellular pathways in RA, including the identification of the role of osteoclasts in articular bone destruction, and has contributed to new treatment modalities for this progressive disease.
During her career, the advent of anti-TNFs (tumor necrosis factor blocking agents) has revolutionized the treatment of RA, providing rheumatologists with an effective tool to block inflammation and prevent or minimize joint destruction. Gravallese's excitement about developments in the field—and her glass-half-full outlook—is evident. "If you have to develop rheumatoid arthritis, this is actually a good time for it," she said. "In the last two decades we have made tremendous strides in treatment and we're fortunate to have a number of medications that can block the progression of the disease."
As chief of the Rheumatology Division at UMass Memorial, Gravallese shows students, residents and fellows photographs of the deformed hands of elderly patients with RA, the knuckles swollen and fingers curved and painful. "They can hardly believe it, because we just don't see RA progressing to that point any longer—we're able to prevent the disabling inflammation and damage caused by the disease," she said.
Buoyed by the advances in the field, Gravallese is eager to continue to find more ways to benefit her patients and will soon launch a clinical trial of a therapy to heal bone erosion and reverse the damage caused by RA.
Gravallese joined UMMS and UMass Memorial in 2006 from Brigham and Women's Hospital, where she recently served as the Katherine Swan Ginsburg Visiting Professor (named for a close colleague who died of cancer during fellowship). She has received the Sandoz Award for medical research, the McDuffie Award from the Arthritis Foundation, the Scholars in Medicine Award from Harvard Medical School and the Physician Achievement Award from the University of Massachusetts. Her research has been funded by the National Institutes of Health, the American College of Rheumatology and the Arthritis Foundation, among others. She received her medical degree from Columbia University College of Physicians and Surgeons and did her residency and fellowship at Brigham and Women's Hospital, Harvard Medical School.
The Dr. Marion Ropes Award was named for an early pioneer in and national leader in the field of rheumatology. Dr. Ropes, who was 91 when she passed away in 1994, was the first woman medical resident appointed by Mass General Hospital and the first woman to be elected to president of the American Rheumatism Association (now the American College of Rheumatology). For two decades she studied the characteristics of synovial fluid in various diseases and co-authored Synovial Fluid Changes in Joint Disease, a reference book many rheumatologists still find valuable. Ropes was keenly interested in the impact of illness on quality of life. Each year the foundation selects one rheumatologist and one orthopedist to receive this award.
Gravallese joins Robert Zurier, MD, and Arthur Pappas, MD, both past recipients of the award.