Nurses key to quality care and patient safety
Conference lays out new agenda for research, education and practice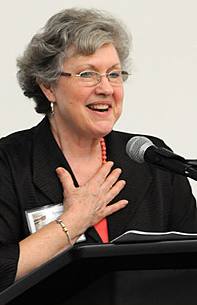 Dr. Gwen Sherwood, a national leader in Quality and Safety Education for Nurses, gave the keynote presentation at the GSN's 8th annual Excellence in Nursing Conference on April 26.
Improved quality of care and patient safety are central to nursing's evolving role, and both were the focus of the 8th Excellence in Nursing Conference. Hosted by the Graduate School of Nursing (GSN) at UMass Worcester on Tuesday, April 26, "Quality and Safety in Patient Care: Implications for Research, Education and Practice" brought together nursing leaders, scholars, educators and students from across Massachusetts.
"Each year we look at what is current and important in health care and nursing," said Eileen Terrill, PhD, assistant professor of nursing and director of the GSN Graduate Entry Pathway, who coordinated the event along with Anne Kane, PhD, assistant professor of nursing and Julie Hehir, MS, instructor in nursing. "Nurses are at the front line of quality and safety because we are at the bedside caring for patients."

A total of 140 nursing students from Worcester County and Metrowest, including 63 from the GSN, made up the audience of close to 200 attendees. "We have a venue for lots of students to come together, learn what's going on out in the world and get a glimpse of advanced practice nursing," said Terrill, noting that exposing undergraduates to graduate nursing education is a valuable adjunct to the conference's scholarly activities.

Gwen Sherwood, PhD, professor and associate dean for academic affairs at the University of North Carolina School of Nursing at Chapel Hill, gave the keynote address on "Forging a New Mindset for Education and Practice: Applying the QSEN Competencies." Dr. Sherwood has been a leader in developing the Quality and Safety Education for Nurses program (QSEN), with the goal to ensure that practicing nurses and future graduates develop competencies in patient-centered care, teamwork and collaboration, evidence-based practice, quality improvement, safety and informatics. Practicing professional nurses, advanced practice nurses, faculty and—most importantly—patients all benefit from QSEN, which is funded by the Robert Wood Johnson Foundation. Sherwood also consulted with the Massachusetts Organization of Nurse Executives and Massachusetts Department of Higher Education's Nurse of the Future Competency Committee, of which GSN Dean Paulette Seymour Route, PhD, is a member and former co-chair. Through the Nurse of the Future initiative, Massachusetts has developed a set of competencies needed for contemporary nursing practice and includes the QSEN work.

Discussions and presentations were inspired and informed by the groundbreaking 2010 Institute of Medicine (IOM) Report, "The Future of Nursing: Leading Change, Advancing Health," as well as other IOM reports chronicling quality of care and patient safety issues. Guided by these influential reports, nurse leaders in educator and practice have taken the responsibility for developing competencies for nurses to improve quality and safety.

Leading the wrap-up discussion on the recommendation of the IOM report on the Future of Nursing, Dr. Seymour Route turned the microphone over to audience members. Three top priorities emerged from discussion of the eight recommendations:
Nurses should be able to practice to the full extent of their education and training.
There is a need to address transition to practice through a residency model.
Including learning as part of inter-professional teams will ensure that nurses engage in life-long learning.
Seymour challenged the group to remember their commitment to patients, and to represent nursing well in all venues, including education, practice, research and policy.