Breakthroughs presented at National Tay-Sachs Symposium
Sena-Esteves reports human gene therapy trials may begin next year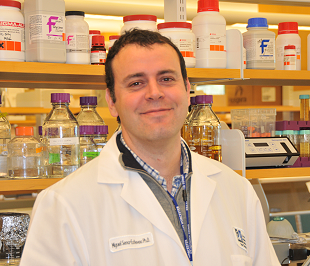 Miguel Sena-Esteves, PhD
Breakthroughs in crossing the blood–brain barrier that could lead to new treatments for Tay-Sachs, Canavan and other neurodegenerative diseases were among the research findings presented at the National Tay-Sachs & Allied Diseases (NTSAD) Science Symposium, according to Miguel Sena-Esteves, PhD, associate professor of neurology. Dr. Sena-Esteves is the project manager of the Tay-Sachs Gene Therapy Consortium, an international collaboration of scientists committed to translating current gene therapy results into human clinical trials within the next three years.

New methods of delivering missing enzymes to the brain show improvement in animal studies, he said, and some scientists predict human trials may begin as soon as next year for Tay-Sachs, one of nearly 100 lysosomal storage diseases.

"Several speakers described inflammation in the brain as a hallmark of all neurodegenerative diseases. Therefore, treatments for Tay-Sachs disease could lend insights to advancing treatments for Alzheimer's Disease and other diseases affecting the central nervous system, as well as the other way around," Sena-Esteves said.

In January, Sena-Esteves was presented with the annual "See the Light" award from the Mathew Forbes Romer Foundation in recognition of his work for leading the fight against children's genetic diseases of the brain.

A member of the Gene Therapy Center, Sena-Esteves is investigating the potential of using gene therapy techniques to replace the faulty gene that causes Tay-Sachs disease, a devastating neurological disorder that causes deterioration of mental and physical abilities starting at six months of age; it usually results in death by the age of five. Sena-Esteves was a leading force in the creation of the Tay-Sachs Gene Therapy Consortium.

In addition to the 85 symposium attendees, nearly 200 patients and families gathered for the 33rd annual NTSAD Family Conference to learn about the latest research developments, share experiences and gain knowledge to help care for their affected loved ones.

Funds raised by NTSAD families and supporters are advancing medical research that promises to benefit multiple disorders. NTSAD's funding for the Tay-Sachs Gene Therapy Consortium's early-stage research led to a $3.5 million NIH grant for developing gene therapies.