GSBS students inspire with their love of science
Innovation Month brings hands-on discovery to Worcester seventh graders

Who knew that extracting DNA from an onion could be so much fun? Worcester middle schoolers do now, thanks to a hands-on learning program brought to the Worcester Public Schools by the UMass Medical School Regional Science Resource Center (RSRC). As part of Innovation Month in the Worcester Public Schools in March, RSRC staff, along with 13 Graduate School of Biomedical Science (GSBS) students eager to share their passion for science, brought all the necessary lab supplies to the seventh grade at University Park Campus School and Claremont Academy.

With UMass Medical School as the lead partner, the Central Massachusetts STEM Network established the Innovation Month partnership among the Worcester school district, private business and local institutions of higher education to help spark seventh graders' interest in science, technology, engineering and math (STEM) subjects and careers. Sharing the goal to improve STEM education and increase the number of students interested in related careers, partners connect STEM professionals in the community with Worcester middle school students through a variety of classroom and community events during Innovation Month.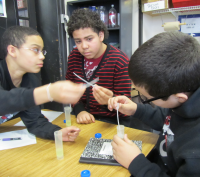 University Park Campus School seventh graders (from left) Lucas Encarnacion-Rivera, Nathanael Lopez and Joshua Serrano extract DNA from an onion during Innovation Month.

Using the same sophisticated biochemical laboratory procedures employed by world class scientists in research laboratories like those at UMMS, every seventh grader at University Park Campus School worked in teams under the direction of RSRC Director Sandra Mayrand and Science Coordinator Karin Spahl. GSBS students Danielle Byrdsong, Yvonne Chan, Heidi Hafemann, Jermaine Lawson, Kim Kerr, Y. Neetha Makil, Andrew Malaby, Edith Plada and Peter Trenh, and post-doctoral fellows Abigail Guce, PhD, Yukiko Maeta, PhD, Jena Pitman, PhD, and Kerstin Zimmermann, PhD, put human faces on science careers while demonstrating the wonder of laboratory discovery.
The seventh graders also learned about the scientists' life stories and educational journeys to the GSBS, and saw a glimpse of how to think like a scientist. "It was wonderful to have a team of real scientists come in and tell the kids about who they are as people," said University Park science teacher Caitlyn Dwyer-Huppert whose students enjoyed show-and-tell activities like examining fruit flies as well as the main lab activity. "The kids really related to things like seeing that the adults use notebooks in their labs just like we do in school, supporting and reinforcing the authenticity of what we do in the classroom."

The experience may well prove to be formative as well as fun for the young students. Research shows that, although they haven't decided what they want to do when they grow up, middle school-aged students do start to rule out career options. To stay academically motivated at this age, they need to be aware of all possible careers, especially in essential STEM fields, and know firsthand how rewarding they can be. "There is no better way to do this than to bring some of the wow of science into the classroom," said Mayrand. "The students initially are reserved, quiet and somewhat shy, but once they start pipetting, measuring and, especially when they begin to see the DNA come out of solution, they turn into curious, enthusiastic scientists."

The Central MA STEM Network is funded by the Massachusetts STEM Pipeline Fund, which is administered by the Board of Higher Education. Further support for Innovation Month was provided by STEM Network members including UMass Memorial Health Care and corporate partners Intel, Abbott and EMC.

"It is a wonderful experience for all involved. We heard many kids say 'wow,' 'awesome,' 'is this really DNA?' and 'I can't believe I'm doing this!'" said Mayrand. "I know we'll be seeing some of these students at UMMS in the future."

About the Regional Science Resource Center at UMass Medical School

Beginning with a single collaboration with one high school in 1989, the Regional Resource Science Center now collaborates with education stakeholders including the Massachusetts Department of Elementary and Secondary Education, Department of Higher Education, school districts, teachers, administrators, students, community agencies, higher education institutions, business community, parents, concerned citizens and like-minded reform groups to further their common mission to improve K-12 science, mathematics and technology education so that all students will reach their full potential. It provides professional development and curriculum resources to K-12 science and mathematics teachers in 133 districts across the commonwealth. The objective of all these endeavors is to support and encourage excellence in science and mathematics education and to promote learning by doing.

Related links:

The Regional Science Resource Center
RSRC Goddard Girls Science Exploration Camp
Hello, my name is . . . Sandra Mayrand