Page Menu
Survey Results
Between May 27th and June 1st 59 respondents answered the "Reinventing the Department of Medicine Faculty Meeting" Survey. Thus far, faculty meetings have had a mere 10% attendance rate causing Department of Medicine leaders to seek faculty input on how improvements can be made. The answers to this survey will help do just that.
Question 1: Which of these topics would be of interest to you in the DOM faculty meeting? n=59.

The following are the mean responses from 0 to 5, with 5 being the most useful. The green bars below indicate the proportion of respondents rating 4 or 5 for the top five topics of interest: financial updates (75%), clinical system updates (75%), highlighting of a division innovation or new program in the department (74%), faculty development (71%), and system leaders (70%).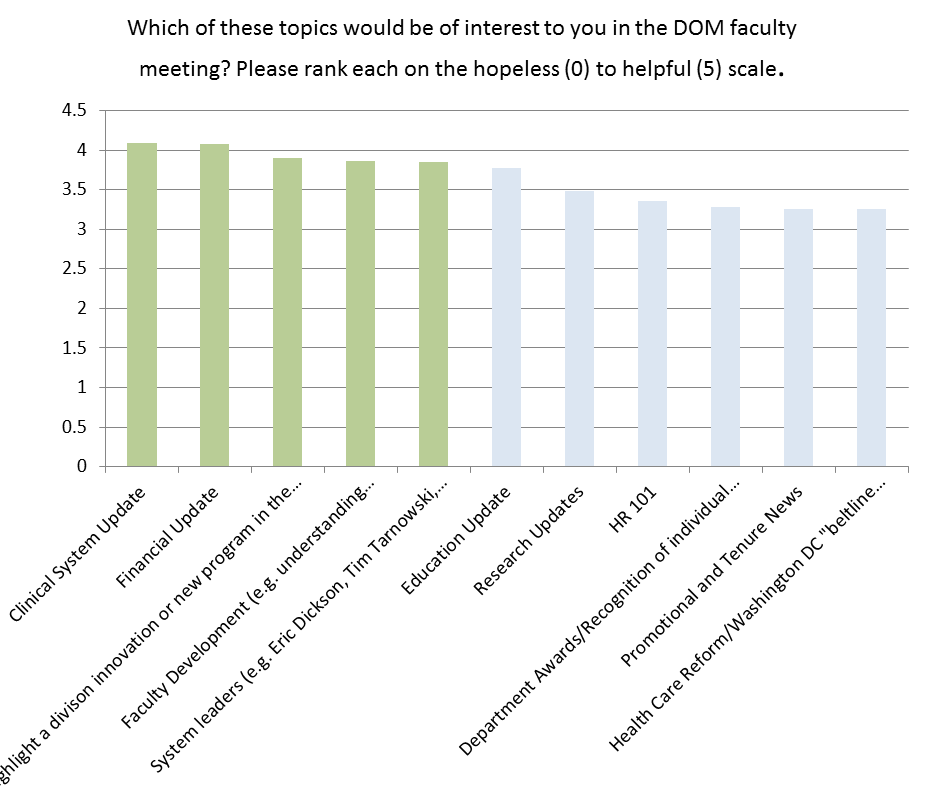 Some respondents also provided answers to open ended questions. The number of respondents is noted for each question
Question 2: What other topics would be of interest? n=17
Creating opportunities for collaboration
Reports from DoM reps on clinical/school committees
Get to know faculty/ social networking
Share research interests, techniques and tools
Share best practices- clinical and flow initiatives
System changes
Faculty input
EMR/ information systems
Managing work place conflict
Strategic vision
Team Building
Education topic for the faculty. E.g. new clinical evidence
Resources for sharing equipment and other shared resources
Residency
Connect to national programs to advance research/clinical
Question 3 Are there particular barriers that currently prevent you from coming to the meetings? 44 people answered with overwhelmingly similar responses. The following are the general topics:
Location/Campuses: faculty are at different sites and have difficulty in getting to the university site for the meeting
Time: the current morning time does not work for many
Work-life balance: early morning or evening meetings may be particularly difficult for faculty with familial obligations
Competing responsibilities
In clinic: would have to cancel appointments
Agenda items are not inspiring/relevant/action oriented
Question 4 Are there particular topics or meeting style (e.g. interactive rather than informational) that would make you likely to come to meetings? n=27
Seek feedback from faculty members as regular part of meeting
"Speed dating": try interactive exercises that help faculty members to get to know each other
Provide information/agenda a few days early so people know what is on the agenda
Interactive
Engaging
Beyond clinical agenda items, need research and education topics
Focus on department wide issues that transcend individual divisions
Idea board-like online process to suggest agenda items
Some of the other comments/themes that were identified from the narrative comments:
Offer CME credits
Several respondents recommended to replace Grand Rounds quarterly for department meeting
Live stream online
Departmental performance measures
Combine with other formats of information sharing (e.g. written summary)