Page Menu
GHHS Solidarity Week
Today's Events
A big thank you to our amazing health care workers and caregivers!
---
Also, click here to view our "canvas of kindness!"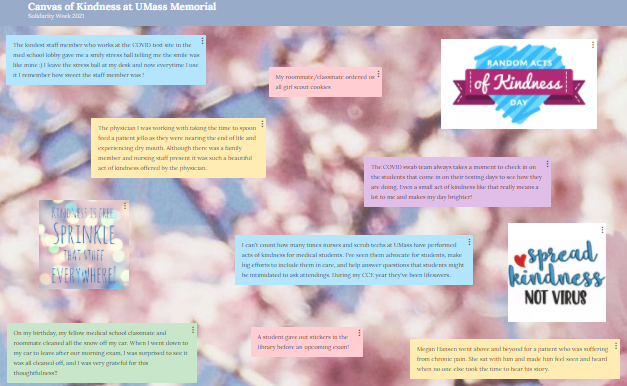 Sponsored by the UMass Chan Gold Humanism Honor Society and the Clinician Experience Office, Solidarity Week is a national celebration of compassionate and patient-centered care. This year, Solidarity Week will be held February 15-19.
Please see the official event schedule below, and follow us on Instagram for updates!
NOTE: Zoom meeting information has been distributed via e-mail. UMass Chan students, faculty, staff, and others with @umassmed.edu e-mails can also click here to download the schedule. Employees of UMass Memorial can access this information via The Hub. All other individuals, please send a message to: GHHS@umassmed.edu
---
Event Schedule
Participants in events marked with * will be entered into raffles for $25 gift card prizes to local businesses! Attend more events for more chances to win!
Monday, February 15, 6-7:30 PM – Movie Night*
Zoom link: See note above
Join us for a screening and discussion of End Game, a documentary about providing compassionate care at the end of life! You are also welcome to watch the documentary on your own and join us at 6:45 PM for the discussion, which will be led by Dr. Jennifer Reidy, Chief of the Division of Palliative Care.
Tuesday, February 16, All Day – Random Acts of Kindness*
Submit online: https://forms.gle/RV1dgEUdppmXWqtL9
Share small acts of kindness, such as a smile, and make UMass a center of warmth and joy! Recall a random act of kindness you witnessed from students, patients, faculty, staff, or visitors! Submit your recollections via the link above, and your answers will be compiled into a virtual "canvas of kindness" to be shared with the entire UMass community here and on our Instagram page!
Wednesday, February 17, Multiple Times – Wellness Day*
7-8 AM – High Intensity Interval Training with Medicine in Motion*: See note above for Zoom link
12-1 PM – Yoga & Guided Meditation with Marya Pulaski*: See note above for Zoom link
5-6 PM – Catastrophic Cooking with Katherine Sadaniantz*: See note above for Zoom link
Join us for a variety of wellness events throughout the day! All sessions are open to employees, students, and patients.
Thursday, February 18, All Day – Cards for Compassion
Postcards with inspiring quotes and illustrations will be distributed by Volunteer Services to admitted patients at University & Memorial Campus! Samples will be posted here and on our Instagram page!
Friday, February 19, All Day – Gratitude Day
A giant thank you video for all health care workers and caregivers will be posted here and on our Instagram page on Friday to wrap up the week!
All Week – Humanistic BINGO*
Submit online: https://forms.gle/QwzQAe8rPbMJ5cgt5
Submit a completed BINGO card by end of day Friday, 2/19 to be entered into a raffle for additional prizes! T.H. Chan School of Medicine students and faculty will also earn House Cup points! Click here to view the BINGO board.
A Celebration of Creativity
Send submissions to: GHHS@umassmed.edu
When have you observed or experienced compassion in your health care or medical journey? Enter the narratives contest by submitting your essay and multimedia pieces by end of day Monday, 2/15. Winners will be awarded $90 gift cards to local businesses, and runner-ups will receive $40 gift cards!