Page Menu
Does FANCJ prevent or cause cancer?
The genomics era provides new clarity underlying disease through a complete genetic profile. However to treat patients effectively, it is critical to know how disease-associated DNA mutations alter proteins that carry out the functions of the cell. Unfortunately, the pathogenicity of many clinical mutations is not known. For example, ~250 mutations were found in the hereditary breast and ovarian cancer gene, FANCJ (also known as BRIP1/BACH1). While several of these clinical mutations are located in regions that are predicted to be critical for ATPase/helicase activity, only a few of these have been analyzed. Interestingly, not all helicase domain mutations inactivate its DNA unwinding activity, but rather some mutations enhance ATPase activity or alter its substrate preference. With the finding that FANCJ is also amplified in some breast cancers, it is conceivable that genome integrity is compromised not only by loss of FANCJ function but also by too much or unregulated FANCJ helicase activity.
FANCJ is a DNA helicase that directly interacts with BRCA1. By "fishing" with the c-terminal BRCA1 BRCT motifs, FANCJ was precipitated from protein lysates. We initially termed it BACH1 for BRCA1-Associated C-terminal Helicase 1. However, given its link to the Fanconi anemia (FA) pathway 2 and that BACH1 was a term already in use for an unrelated transcription factor, we have adopted the term FANCJ for the gene. The first suggestion that FANCJ might be critical to BRCA1 tumor suppression function was the observation that tumor-predisposing missense and deletion mutations in the BRCA1 BRCT domain, all of which render BRCA1 defective in its DNA repair function, also disrupt FANCJ binding to BRCA1 1. Moreover, we have shown that similar to BRCA1, FANCJ participates in DNA repair 2,3. A helicase dead version of FANCJ disrupted normal double strand break repair when over-expressed in cells 4. Complementation studies in FANCJ-null cells also demonstrated that wild-type enzyme activity is required for FANCJ to restore resistance to DNA damaging agents 5.
FANCJ helicase is mutated in breast cancer resulting in disrupted helicase activity. The association of loss of function of a DNA helicase and either decreased cell viability or disease production is well established. In this regard, we initially found the link between germline FANCJ mutations and breast cancer development. In particular, two independent germline FANCJ mutations were found among a cohort of 65 women with early-onset breast cancer, including one with a strong family history of breast and/or ovarian cancer and with normal BRCA1 and BRCA2 genotypes 1. Importantly, we found that both of these sequence changes disrupted FANCJ enzyme activity 6. This finding suggested that normal FANCJ activity is critical for tumor suppression. Consistent with this point, FANCJ accounts for 2% of all hereditary breast cancers and FANCJ mutations have been identified in breast, ovarian, and other tumors including melanoma 7.
Cancer and too much FANCJ? The idea that too much FANCJ enzyme activity could be linked to tumorigenesis derives from the finding that some tumors have FANCJ over-expressed. In particular, FANCJ is overexpressed in 11% of breast invasive carcinoma (Sloan Kettering Bioportal) . Moreover, in vitro studies reveal that some FANCJ helicase domain mutants display enhanced enzyme activity. When expressed in FA-J cells (null for FANCJ), these mutants restore DNA repair and elevate resistance to certain DNA damaging agents, such as cisplatin and ultraviolet light. A similar outcome results from expression of a FANCJ mutant that is defective for BRCA1 binding. Thus, it is conceivable that BRCA1 regulates FANCJ function. If BRCA1 tumor suppression function depends, even in part, on the regulation of FANCJ enzyme activity, loss of this regulation would be tumor promoting. We are currently testing if unregulated FANCJ generates open DNA structures more vulnerable to illegitimate recombination or other adverse modifications. In addition, we are addressing if FANCJ clinical mutants with elevated enzyme activity are refactory to regulation by BRCA1.
Effective Therapy. The key to successful patient therapy will be to understand the functional outcome of FANCJ mutations. Tumors that lack functional FANCJ, and are defective in DNA repair should be sensitive to DNA damaging agents such as cisplatin. A completely different approach will be needed for tumors in which FANCJ could be an oncogenic factor, too much over-active or unregulated FANCJ.
Figure 1: FANCJ and Cancer. A)FANCJ mutations as found initially in breast cancer and now many cancers including melanoma as well as FA indicate FANCJ is a tumor suppressor. While FA mutations and other helicase domain mutations (light blue) in cancer are expected to be loss of function, some cancer mutations do not inactivate, but rather enhance or alter its ATPase/helicase activity, such as M299I. B) Consistent with too much FANCJ being oncogenic. FANCJ is over-expressed in breast invasive carcinoma.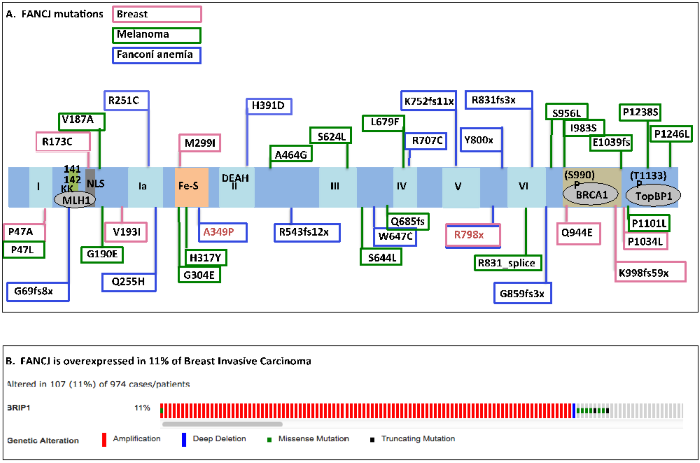 1 Cantor, S. B. et al. BACH1, a novel helicase-like protein, interacts directly with BRCA1 and contributes to its DNA repair function. Cell 105, 149-160 (2001).
2 Litman, R. et al. BACH1 is critical for homologous recombination and appears to be the Fanconi anemia gene product FANCJ. Cancer Cell 8, 255-265 (2005).
3 Peng, M., Litman, R., Jin, Z., Fong, G. & Cantor, S. B. BACH1 is a DNA repair protein supporting BRCA1 damage response. Oncogene 25, 2245-2253, doi:1209257 [pii]10.1038/sj.onc.1209257 (2006).
4 Xie, J. et al. Targeting the FANCJ-BRCA1 interaction promotes a switch from recombination to poleta-dependent bypass. Oncogene 29, 2499-2508, doi:10.1038/onc.2010.18 (2010).
5 Peng, M. et al. The FANCJ/MutLalpha interaction is required for correction of the cross-link response in FA-J cells. Embo J 26, 3238-3249 (2007).
6 Cantor, S. et al. The BRCA1-associated protein BACH1 is a DNA helicase targeted by clinically relevant inactivating mutations. Proc Natl Acad Sci U S A 101, 2357-2362 (2004).
7 Cantor, S. B. & Guillemette, S. Hereditary breast cancer and the BRCA1-associated FANCJ/BACH1/BRIP1. Future oncology 7, 253-261, doi:10.2217/fon.10.191 (2011).