Page Menu
Tom Halpin, MD - Tatnuck House Mentor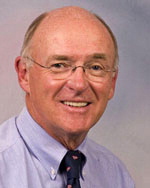 Dr. Halpin was born and raised in Reading, Massachusetts and graduated from Boston College. He attended Harvard Medical School and served his Internship through Chief Residency, including an American Cancer Society fellowship in Gynecologic Oncology at Columbia Presbyterian Medical Center in New York City.
He served as a combat surgeon in the 3rd Field Hospital in Vietnam and settled in Worcester as a member of Worcester OB - GYN Associates. After thirty years in private practice, his group joined the Community Medical Group of the UMass Memorial Health Care System. His clinical research has resulted in 17 publications. A Professor in the Department of Obstetrics and Gynecology, he has three times served as the president of the medical staff and has been Director of Gynecology. He helped to found and remains active in the teaching program in Obstetrics and Gynecology for both medical students and residents, resulting in several teaching awards.
He resides in West Boylston with his wife Patricia and their Golden Retriever, Charlie. They have four children and nine grandchildren.