Page Menu
Pang-Yen Fan, MD - Tatnuck House Mentor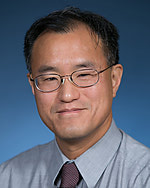 P.Y. Fan was born in California, but raised in Durham, New Hampshire. He attended Boston University's combined BA/MD Program before doing his internship at Temple University. He completed his Internal Medicine residency at Duke University before spending a year in Massachusetts as an ER attending at Winchester Hospital. Dr. Fan then returned to Duke for Nephrology Fellowship before joining the faculty there.
Since coming to the Division of Renal Medicine of the University of Massachusetts School of Medicine, Dr. Fan has been a clinician-educator working principally in the field of transplantation. He is the Medical Director of the Kidney Transplant Program and has served on regional and national transplant committees. He is also interested in disparities in health care and chaired the Minority Affairs Committee of the United Network of Organ Sharing. As an educator, he has been an Associate Program Director for the Internal Medicine residency and the Program Director for the Nephrology Fellowship and has won a number of teaching awards. He holds the rank of Professor of Medicine.
Dr. Fan lives in Northborough, Massachusetts with his wife. He enjoys dogs, photography, and outdoor activities such as skiing, hiking, fishing (though typically without catching), and running (slowly).