Page Menu
Dede Blake, MD - Head of Quinsigamond House, Quinsigamond House Mentor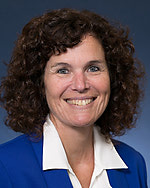 Dede Blake grew up in Framingham, MA. She received her bachelor's degree from Smith College with a major in Biology and a minor in Religion, and she received her medical degree from the Johns Hopkins School of Medicine. Dede completed her Pediatric residency at Seattle Children's Hospital and her Adolescent Medicine fellowship at Johns Hopkins. She has been on the faculty of the UMass Chan Medical School for 19 years and is a Professor of Pediatrics.
Dede has been a learning communities mentor since learning communities were established at UMass in 2010. She finds the relationships she has developed with her mentees to be immensely rewarding. She also enjoys teaching the physical exam and clinical skills to her first and second year mentees.
Dede is passionate about providing primary care to adolescents and creating an atmosphere where youth can explore all aspects of their development as they move toward adulthood. Her clinical practice includes primary care, medical gynecology, contraception, sexual health, and mental health. She provides onsite primary care to adolescents in an intensive residential treatment program and collaborates with nurse practitioners who care for youth in the custody of the Department of Youth Services. She co-directs the UMass Memorial Children's Medical Center Youth Gender Services Clinic.
Dede met her husband Greg while she was in Seattle. They have two sons – Jeremy who is 20 and a junior in college and Ben who is 17 and a senior in high school. They enjoy camping, attending the little league world series, spending time in Maine, and vacationing in the Caribbean.