Page Menu
Rebecca Spanagel, MD - Blackstone House Mentor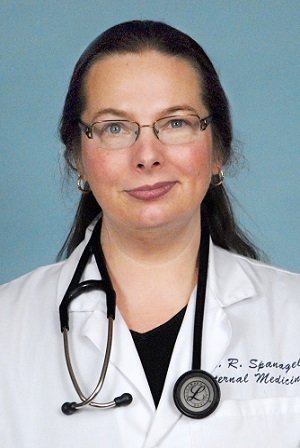 Dr. Spanagel grew up in Western New York, in the small town of Canandaigua, one of the Finger Lakes. She attended the University of Rochester for her undergraduate education and for medical school. Dr. Spanagel then came to Providence, RI to pursue a residency program in Primary Care Internal Medicine at Rhode Island Hospital. Following this, she came to Worcester, MA as a primary care internist for Fallon Clinic.
Dr. Spanagel started working with medical students as a resident at Rhode Island Hospital, then as a primary care clinician at Fallon Clinic. This interest led her to work at the primary care center at the University of Massachusetts, where she took part in teaching students in the Patients, Physician and Society course and co-ordinated the Longitudinal Preceptor Program. Since 2007, she has been at St. Vincent Hospital where she has a clinical practice and also is the site director for the third-year Internal Medicine Clerkship and fourth-year SubInternship. She has received the Outstanding Clinical Educator Award in 2012 and 2013.
She has been a Learning Communities Mentor since 2010, and was honored to be recognized as Mentor of the Year in 2013.
Dr. Spanagel is the co-director of the Healer's Art elective at the medical school. This is an elective that engages students in a discovery model and community of inquiry focusing on the meaning of being a physician and the practice of medicine. The course was brought to the medical school as a project of a recent graduate of the school. She has also participated in the Internal Medicine intraclerkship co-ordinating a session on maintaining compassion.
Dr. Spanagel was honored by receiving the Leonard Tow Humanism in Medicine Award in June 2016, in recognition of exemplary compassion, competence and respect in the delivery of care.
She has a son, Paul, and lives with her husband David in Lancaster, MA with a menagerie of animals.
"Inspire me with love for all of thy creatures. May I
see in all who suffer only the fellow human being."
—MAIMONIDES, 14TH CENTURY PHYSICIAN