Page Menu
Careers and Working at Commonwealth Medicine
Commonwealth Medicine is looking for smart, hard-working people who are passionate about public service and committed to improving health care. At Commonwealth Medicine, every member of the team has a role in supporting and contributing to the success as an organization.
Commonwealth Medicine is built on the foundation of the academic and public service missions of UMass Chan Medical School. Initially launched to unite a collection of Massachusetts-based service programs started by faculty members, Commonwealth Medicine has grown to become the internationally known nonprofit health care consulting and operations division of the Medical School. With a transparent business model and versatile staff, they have developed a portfolio of public- and private-sector clients in the health care market — and they continue to grow.
Today, Commonwealth Medicine employs more than 1,200 people: analysts, case managers, clinicians, consultants, finance professionals, pharmacists, project managers, professional staff and administrators, program developers, researchers, and support staff.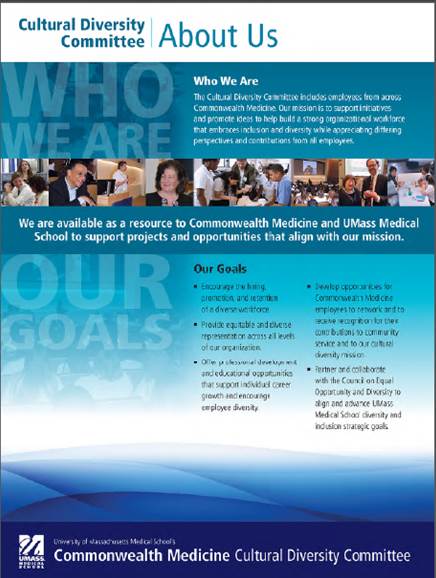 Learn more about Commonwealth Medicine's (CWM) Cultural Diversity Committee:
Support Our Mission and Vision