Agile Project Management
Date Posted: Friday, September 19, 2014
Project Delivery Approach
Given the criticality of delivering functionality to our clients rapidly and within aggressive, specified timelines, the level of engagement between our client subject matter experts and the UMMS IT delivery teams must be frequent and include a high amount of collaboration in order to ensure transparency throughout the delivery cycle. Focus both teams on delivering functionality as rapidly as possible and to effectively mitigate the risk that functional development is not exactly in line with customer expectations. Therefore, we feel the most effective delivery method for this effort and for all of our software development efforts is to employ an agile development framework. More specifically, we use the SCRUM methodology.
Employing the scrum development framework is guided by the following key principles:
The development of working software is more important than comprehensive documentation.
A High degree of collaboration between the business & development team through frequent discussions and communication.
The development team can adapt to changes more quickly given short sprint durations (2 week intervals for this effort) and the ongoing feedback from clients.
The Scrum Process
The Scrum Process incorporates the following elements as illustrated in the diagram below: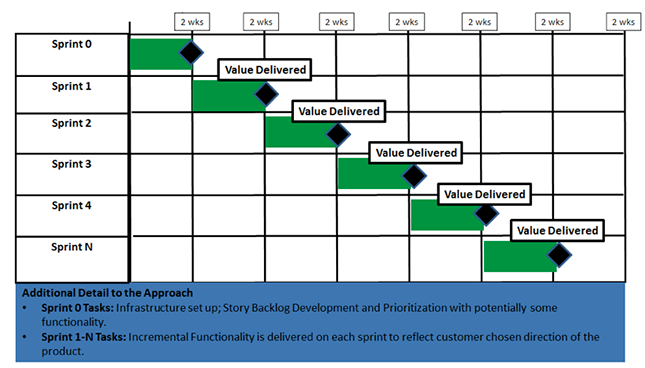 Product Backlog: Customers and UMMS IT will work together to define and prioritize key functional components. The key components are then decomposed into "user stories" that can be delivered in two week intervals known as "sprints". The sprints will contribute to the incremental building of all the functionality to be delivered in Phase I.
Sprint Backlog: Once User Stories are defined and prioritized they are assigned to the Sprint Backlog for deliver within the next 2 week cycle.
Daily Scrum Meeting: Progress within each sprint is reported by the team every day during the 15 minute morning standup in which our customers are encouraged to participate to maximize your visibility into the development process
Potentially Shippable Product: With each internal release cycle highlighted below key deliverables can exist of either functional components that can be demonstrated and signed off on by our customers as meeting requirements or in some cases diagrams or documentation that will be instrumental in ensuring the development of a robust, secure and extensible application.
Key Benefits of Scrum
In short the development process will allow the business to see value being delivered much more rapidly than in the traditional waterfall development method.
Our Clients will get to review functionality and provide feedback every 2 weeks.
Business priorities can be modified and new users stories can be developed throughout the development process.
Incremental functional delivery and new tools will help UMMS IT to improve product quality.
Businesses will have visibility into everything that is happening at all times.