UMass Chan Network Upgrade
Date Posted: Monday, June 16, 2014
UMass Chan Medical School IT Infrastructure team has developed a multi-step plan to transform the network.
This has been broken up into several phases that will initially address Campus Building, Data Center and Internet access. The goal is to improve network performance, reliability and build a highly scalable redundant network platform to take UMMS into the future.
Network Challenges today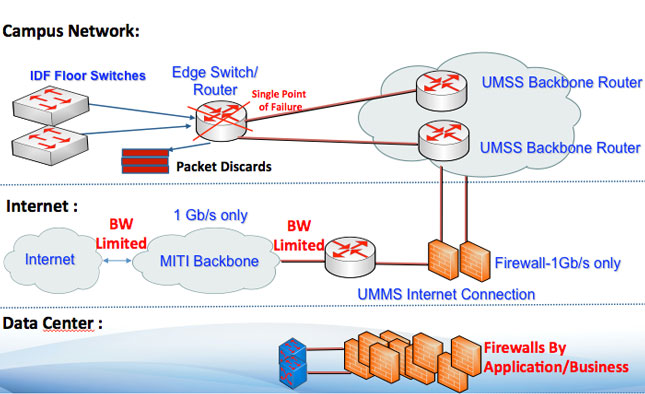 Where do we start? Initially, UMMSS IT will be working throughout the summer and fall to improving Campus network access from major locations with hardware and software platform upgrades as well user switch upgrades at key locations.
Next, UMMS IT in the early Fall will connect to the new highly advanced UMASSNET backbone that provides connectivity to the Internet and all of the UMASS system. This new connection coupled with an upgrade of our Internet firewalls and network access will provide higher speed Internet access, faster access to other UMASS sites and an improvement of access to the MGHPCC Computing facility in Holyoke.
Future Network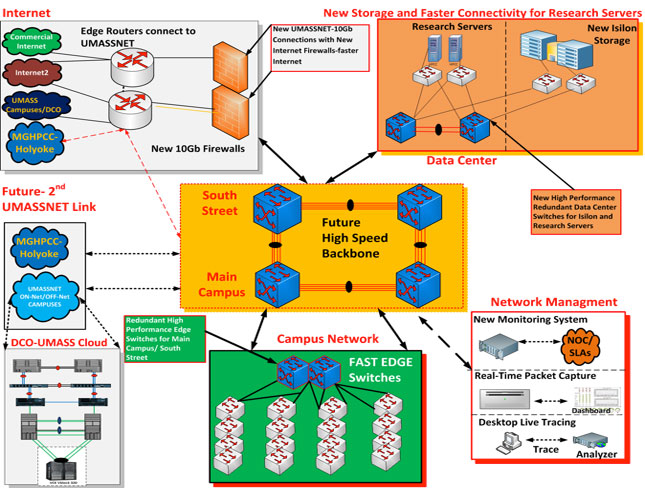 UMMS IT is also reinventing access and increasing storage capacity in the Data Center and improving access to key applications and research systems. UMMS IT has added new system and network management tools that will help improve the way we manage our infrastructure and provide better real-time information on network and application performance resulting in better support and delivery to our customers.
UMMS IT is innovating the way applications and systems are being delivered and serviced for the Medical School and several large UMASS Universities who partnered on the UMASS DCO Cloud.
UMass Chan will be leading the charge over the next few years with a migration of systems and applications to the new UMASS DCO Cloud transforming the way systems are built and delivered more efficiently and cost effectively.
UMass DCO Cloud