Page Menu
SuggestIT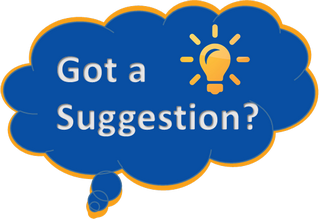 We'd like to hear it!
Do you have an idea to increase IT efficiency? A suggestion to make UMMS IT an even better place to work? We'd like to hear your suggestions on how to improve the IT department.
How does it work?
You have two options to submit a request:
Fill out the electronic form in the right column of this page
Submit a paper form (download the PDF) and send interoffice to: SuggestIT, Room S1-320, Cubicle S1-362
Once a quarter, we will review the submissions and post them in the IT Suggestion Blog. Here you will have two months to weigh in on the suggestion.
After the discussion period is closed, the team will review the suggestions with senior management and determine how, or if, to implement the suggestion. We'll update IT with a quarterly email, and include the results in the blog.