Page Menu
WI-Fi Calling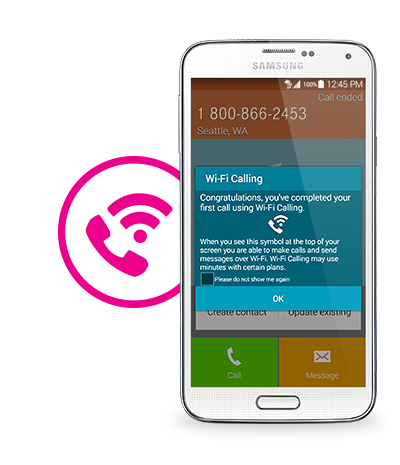 Wi-Fi Calling is different from Cellular
The two major categories of wireless Internet access are cellular wide area networks (WANs) and Wi-Fi local area networks (LANs). In a nutshell, cellular is everywhere, although it may be poor or nonexistent inside a building or in rural locations. Wi-Fi reception is within a Wi-Fi hotspot, which varies from approximately 50 to a couple hundred feet from the transmitter (access point).

Wi-Fi - Short Range - Local
Wi-Fi is standard equipment on most mobile devices, and a Wi-Fi hotspot for Internet access is built into the wireless router commonly used at home or in the office (see wireless router and Wi-Fi extender). When not at home or in the office, free Wi-Fi hotspots are available in public areas such as coffee shops and lounges, as well as on the street in many neighborhoods. However, airports and other venues may charge for access. See Wi-Fi hotspot and Muni Wi-Fi.
Cellular – Long Range – Nationwide
Cellular 3G/4G service is built into smartphones, which of course are cellphones, but cellular is also an option for tablets and laptops. To add cellular service to a Wi-Fi-only tablet, see cellular hotspot. To add cellular to a laptop, see cellular modem.
How can Wi-Fi calling help you?
Instead of using your carrier's cellular network connection, you can make voice calls via a Wi-Fi network. That could mean using a Wi-Fi connection you have set up at home, in the office, or whatever Wi-Fi hotspot you happen to be on when you're out and about, such as at a cafe or library. In most ways, it's like any other phone call, and you still use regular phone numbers.
All you need to know about Wi-Fi Calling.
Here is Wi-Fi information from each Cell Provider. This feature is support by your Cell Provider.
AT&T Wi-Fi Calling Information
Verizon Wi-Fi Calling Information
Sprint Wi-Fi Calling Information
T-Mobile Wi-Fi Calling Information
For Corporate provide cell phone please contact your IT Department to make sure your device is setup for Wi-Fi Calling. Addition charges may apply.