Page Menu
CCRN Review Course | Critical Care RN Certification Review Course
The CCRN Review Course (Critical Care Registered Nurse (RN) Certification Review Course) is developed for nurses who care for patients in the acute/critical care setting and preparing for the CCRN board certification exam or looking to refresh their critical care skills. This course presents an overview of topics covered in the 2017 Adult CCRN Test Plan to help you prepare for certification and apply the content in your clinical practice.
The CCRN certification is a board certification granted by AACN Certification Corporation. It validates that a register nurse has achieved a level of knowledge in nursing necessary to care for patients in the acute care and/or critical care setting. CCRN certification denotes that the registered nurse is qualified and competent, as well as, has met the rigorous certification requirements set forth by AACN necessary to achieve board certification status.
What are the course topics?
The course covers the concepts below. These concepts support the AACN Synergy Model for Patient Care.
Advocacy
Behavioral considerations
Cardiovascular
Caring practices
Endocrine
Gastrointestinal
Hematology

Immunology
Multisystem
Neurology
Pulmonary
Renal
Response to diversity
Target Audience
Registered nurses who would like to prepare for the CCRN exam or those who are interested in a review of critical care nursing principles.
Once enrolled in a course the Graduate School of Nursing does not offer refunds
Meet the Instructor
Margaret Emmons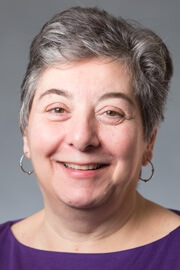 Margaret graduated from St. Anselm College in 1975. Shortly after, she began working in the ICU. In 1988 she was certified in CCRN. After working in many different ICUs and managing roles, Margaret received her NP from UMass GSN in 2005 and worked in inpatient cardiology at the Dartmouth Hitchcock Medical Center. Margaret also received her PhD in nursing from UMass GSN in 2014 and currently works in the outpatient setting in a cardiology and heart failure clinic.