Page Menu
Brightwood Wins Commuter Challenge
The inaugural UMass Medical School student commuter challenge drew 100 participants who saved thousands of miles on their vehicles by instead carpooling, walking, bike riding, or taking public transportation. After all the points were tallied, students in the Brightwood House Learning Community took first place, earning a pizza party this fall and bragging rights for the whole year.
"I decided to participate because it seemed like a fun opportunity to come together as a house to see how sustainable we could be," said Kathryn Norman, a second-year medical student in Brightwood.
Norman, like her housemates, is enrolled in the Population-based Urban and Rural Community Health (PURCH) track based at the UMMS-Baystate campus in Springfield. "We go to Springfield about twice a month and we've been carpooling from the very beginning both because it's ecofriendly and because it's much more fun than driving alone," Norman said. "Even though PURCH students have the longest commute, it seems that most UMass students I know commute sustainably and walk or bike to school every day, so I think a cool thing about the challenge is that it quantified the green commuting habits that have already been formed here."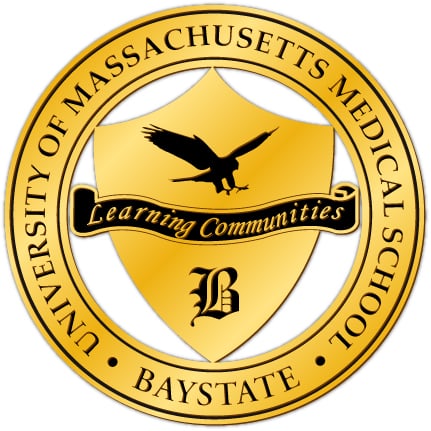 The student commuter challenge ran Sept. 4 through Oct. 5. The teams competing were students in the Graduate School of Nursing, the Graduate School of Biomedical Sciences and the School of Medicine's learning communities.
The competition was coordinated through the Bay State Commute program, the state's online tool that promotes ride sharing and offers rewards for people who log multiple "green trips" such as walking, bike riding, carpooling, taking public transportation or even telecommuting. Any activity that avoids a solo trip in a car earns points that can be redeemed for rewards.
A total of 100 UMMS students participated in the challenge, 93 of whom were new registrants on the Bay State Commuting platform. In total, the students logged 1,855 green trips which saved 4,492 miles of commuting, if they had all driven themselves individually. The impact of all their green commuting saved an estimated 200 gallons of gasoline and reduced CO2 emissions by 1.98 tons.
"I am impressed with the participation by both existing green commuters and with those who normally drive alone," said Patrick Higgins, outreach coordinator for MassRIDES, the state program that manages Bay State Commute. "Behavior change can be difficult and students put in a quality effort."
The challenge was scored with points awarded for the total number of students who registered, the number who participated in the "try it day" promotion, and for vehicle miles saved. After Brightwood, the GSBS team took second place, and the students in Kelley House came in third.
"Commuting to campus is a big driver of our emissions, so it was great to see the students respond in a big way, and lead by example with green commuting," said Suzanne Wood, sustainability and energy manager at UMMS. "I think we should look to hold another campus challenge of some sort in the spring."
Even though this challenge is over, anyone can join the Bay State Commute program and begin building points to earn rewards for green trips. Commuters register at baystatecommute.com and track their green trips. The tool also has a ride-sharing function to match people for carpools. A new Bay State Commute mobile app is also available for free from either the Apple or Google Play app stores.