Page Menu
Population Health Clerkship
This is a two-week course required of all medical and nursing students in the fall of the second year. Its aim is to introduce students to public health concepts and to communities as a unit of care. Rural Health Scholars may select one of the small groups that focus on health and health-related issues in rural or small town Massachusetts. In the past, students have gone to Martha's Vineyard, Barre, and Orange.
"At UMass I joined Rural Health Scholars to learn more about career options and challenges and rewards of practicing in a rural setting, and I got the bonus of learning to stitch and cast! Hearing from practicing rural physicians, and spending a couple of weeks learning about rural health care issues on Martha's Vineyard for hte first year Community Clerkship have both been very helpful in broadening my understanding of rural medicine."
-Kate, UMMS '08
Community Health & Health Care Delivery in Rural Central MA - Barre, MA
Students are introduced to a various occupational, community and environmental health problems related to life in a rural community. They work individually or in pairs on a topic of their choosing such as issues related to adolescent health, elder health, alternative and complimentary medicine, or environmental health. The group is based at the Barre Health Center, which is a family practice residency training site. Students have the opportunity to shadow a rural doctor. Students visit multiple sites in the community and learn about the community resources available to residents.
Population Health Clerkship on Martha's Vineyard
(Click here for Gina's experience on Martha's Vineyard)
This group focuses on the nature and availability of health care services on a semi-isolated, rural island. Beginning with the socio-economic and political contexts in which health care is provided, students learn how health care needs are determined and how services are organized and delivered. In exploring the gap between services needed and services available, students build on outcomes that clerkship students in prior years have generated. The clerkship has been designed to support the island Health Council's efforts in the priority area of Mental Health and Substance Abuse (MHSA); students work with/for the Council MHSA committee. Student activity has included:
Developing an island wide directory of resources regarding MHSA assistance
Gathering, assessing and developing a universal screening tool for all relevant island facilities and 'gatekeepers'
Developing a draft of a High School Community Service requirement with a focus on MHSA as a condition of graduation requirement.
Drafting a parent questionaire regarding views of student substance use.
Students have contributed to the development of contextual and collaborative insights into MHSA challenges in this unique rural (and resort) community. In addition, students have an opportunity to attend Grand Rounds at the Martha's Vineyard Hospital, one of the state's four Critical Access Hospitals, and observe/aid providers at the rural health clinic.
Population Health Clerkship Poster Session 2012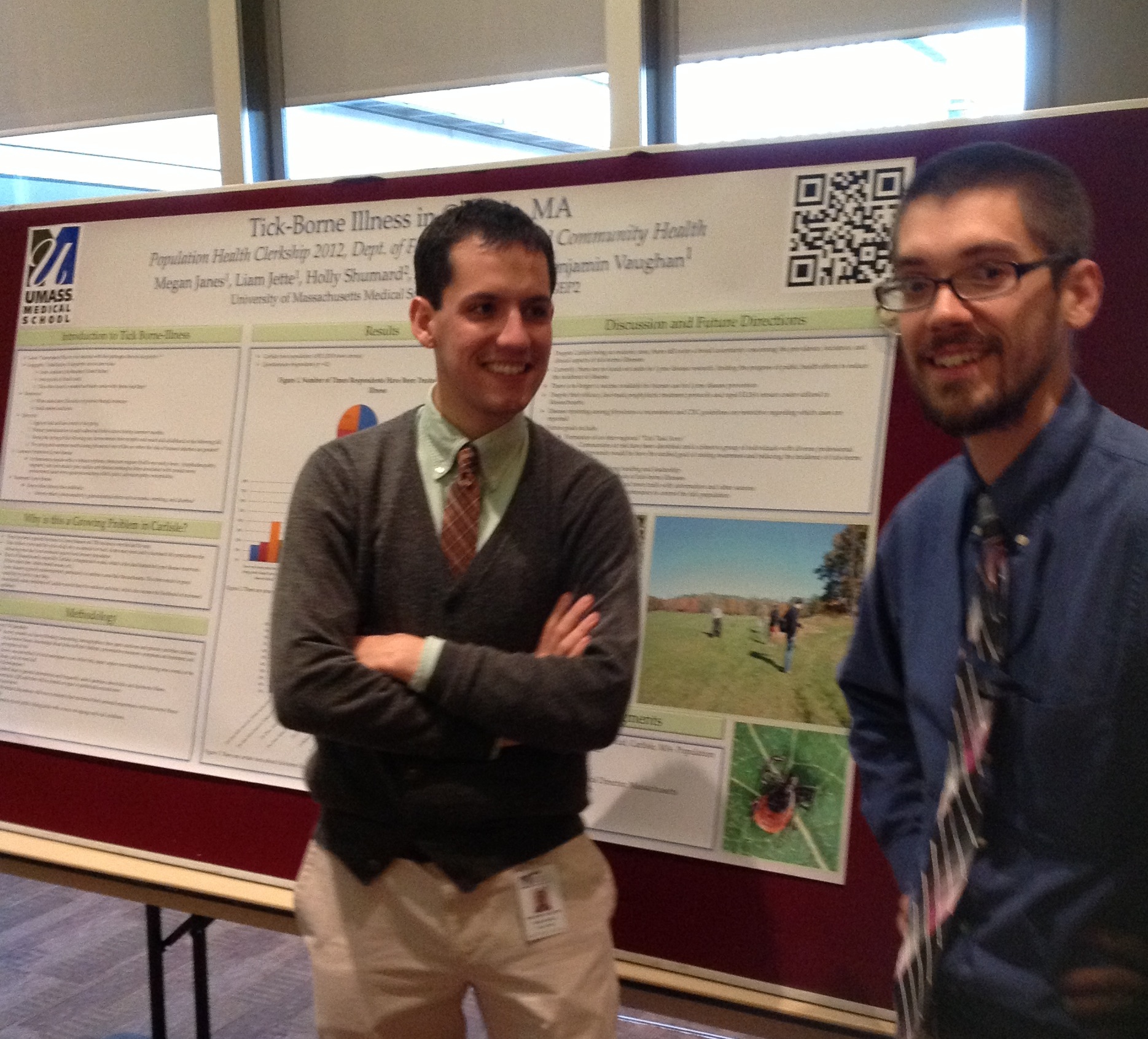 Ben Vaugh (left), Liam Jette (right)