Page Menu
Family Medicine Inpatient Service
Welcome to South 6!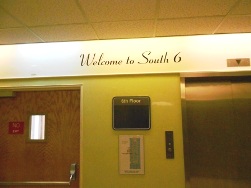 The sixth floor at Memorial Hospital is considered home to the Family Medicine Inpatient Service (FMIS). FMIS covers approximately 2200 annual admissions, working with faculty from the 3 health centers and the Family Medicine Hospitalist Service, as well as community family physicians in the Worcester area.
While rotating on this service, residents learn the skills required to provide comprehensive evidence-based medical care to adult inpatients. The emphasis is on education as well as service to the community…and having fun in the process!
PGY-1
Residents learn the fundamentals of inpatient adult medicine, including admission histories and physicals, order writing, and daily rounds and progress notes, while developing their clinical assessment skills. They work under the direct supervision of senior residents and faculty and community attendings. (3 months)
PGY-2
Residents continue to refine their clinical care skills and knowledge base, with a focus on developing a comprehensive assessment and plan. Residents also learn how to run a team and function as supervisors and teachers of inpatient medicine. (3 months)
PGY-3
Residents continue to develop the above skills while preparing for their transition into the attending role. (1 month required, optional teaching electives available.
Medical Students
FMIS and its associated Family Medicine Hospitalist Service host UMass Medical School's required 4th-year sub-internship. The Sub-I has been consistently rated among the best of all UMMS 4th-year clerkships. We have also become a popular elective rotation site for students from medical schools throughout the country. While on service, Sub-Is function in the role of PGY-1.

Collaboration with Specialists
FMIS is fortunate to allow residents the opportunity to work with practitioners and staffs from a number of disciplines: `
Pharmacists: in addition to hospital pharmacists assigned to each floor, there is a faculty pharmacist as well as students from the Massachusetts College of Pharmacy who round with the family medicine residents providing teaching and advice about medication-related issues.
Behavioral Medicine Fellows & Faculty: A practitioner of behavioral medicine rounds with the family medicine teams at least once per week assisting with patient encounters and providing valuable teaching.
Nurses and PCAs: While residents interact with nursing staff on all floors of the hospital, they tend to develop a sense of camaraderie and teamwork with the staff on South 6 in particular.
Consultants: Residents are fortunate to work with attending physicians from a number of specialty services in a team approach to caring for patients. Attendings are approachable and dedicated to teaching residents.