Page Menu
Worcester Family Medicine Residency

Welcome to UMass Worcester Family Medicine!
We are a top-ranked university program with three community-based health center training sites offering uniquely different clinical and educational experiences. Faculty and residents work collaboratively to create a diverse, strong, and supportive community.
Like three-residencies-in-one, our health centers in Worcester (Family Health Center of Worcester and Hahnemann Family Health Center) and just outside Worcester (Barre Family Health Center) have separate match numbers and conduct interviews on separate days. I invite you to explore our website and learn about us. Select the health center or centers that you feel will best meet your goals.

And if you are a visiting 4th-year medical student who would like to apply for a Family Medicine elective at UMass, we are happy to consider you. Click here for more info!

We are committed to resident-centered education and provide the resources and flexibility to help you reach your full potential. Come share our passion for Family Medicine at UMass!
Stacy Potts, MD, MEd
Residency Director

Click the blue button below to join our e-mail information list!

"Why Worcester" for your residency? Check out UMass Medical School's new 3-minute clip all about our home city!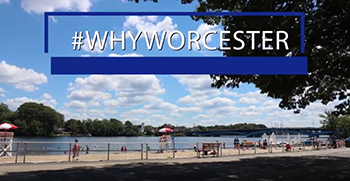 NEWS AROUND OUR RESIDENCY




Our Family Health Center residents and faculty
in action (and in the woods) at this fall's retreat
UMass Again Ranked Top Ten Percent Nationally for Primary Care: Check out the 2018 rankings from US News and World Report's annual Best Graduate Schools issue!


UMass had a great time at the 2018
AAFP Conference in Kansas City!
We're excited to have launched our innovative provider well-being curriculum! Residents from all three health centers come together for wellness experiences and humanities exercises with a goal of decreasing burnout by promoting self care, increasing skill sets, and helping to create a peer support network.
Learn more about the Global Health Track that is specifically for our UMass Family Medicine residents (and check out the Global Health blog on the Track's website, too!)