Page Menu
Worcester Family Medicine Residency
Welcome to UMass Worcester Family Medicine!
We are a top-ranked university program with three community-based health center training sites offering uniquely different clinical and educational experiences. Faculty and residents work collaboratively to create a diverse, strong, and supportive community.

Like three-residencies-in-one, our health centers in Worcester (Family Health Center of Worcester and Hahnemann Family Health Center) and just outside Worcester (Barre Family Health Center) have separate match numbers and conduct interviews on separate days. I invite you to explore our website and learn about us. Select the health center or centers that you feel will best meet your goals.

We are committed to resident-centered education and provide the resources and flexibility to help you reach your full potential. Come share our passion for Family Medicine at UMass!
Virginia Van Duyne, MD
Program Director
Click the blue button below to join our e-mail information list!
"Why Worcester" for your residency? Check out a 3-minute clip all about our home city! Worcester was also featured on a 2019

episode

of Boston's local newsmagazine Chronicle.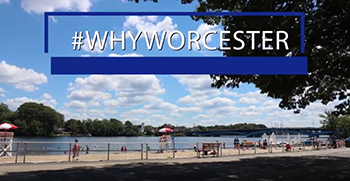 NEWS AROUND THE RESIDENCY

Follow us! Instagram
Twitter


JOIN US FOR A UMASS FAMILY MEDICINE ZOOM Q&A on Thursday, September 23! Meet our UMass Fitchburg residents and faculty from 6:45-7:30 EST and our UMass Worcester residents and faculty from 7:30-9:00 pm EST. Contact Michael.Smith@umassmemorial to pre-register and to receive the Zoom link.

Congratulations to PGY-1 Stephany Giraldo Eierle, DO, MPH who is currently featured in UMass Medical School's publication UMassMedNow discussing her journey to medicine. Stephany is a Latina first-generation American at Family Health Center of Worcester and you can read her story and watch her interview here!

In the just-released 2022 rankings by US News and World Report, UMass Medical School came in 10th in the nation for primary care education! Read it here!




In 2020, our society faced a global pandemic from a novel coronavirus and saw an expansion of the longstanding struggle with the structural racism that undergirds our institutions, culture, and medical system. Throughout our site, you can find images from the Workers of Worcester photography project created by An-Hoa Giang, MD, and Henry DelRosario, MD. These images and the powerful stories shared by members of our healthcare system document the struggles and triumphs of our shared fight to build a more equitable and just society for everyone. Click here to learn more.