Page Menu
Worcester Family Medicine Residency
Welcome to UMass Worcester Family Medicine!
We are a top-ranked university program with three community-based health center training sites offering uniquely different clinical and educational experiences. Faculty and residents work collaboratively to create a diverse, strong, and supportive community.

Like three-residencies-in-one, our health centers in Worcester (Family Health Center of Worcester and Hahnemann Family Health Center) and just outside Worcester (Barre Family Health Center) have separate match numbers and conduct interviews on separate days. I invite you to explore our website and learn about us. Select the health center or centers that you feel will best meet your goals.

If you're a 4th-year medical student interested in a visiting rotation with UMass Family Medicine, please note that due to COVID-19, applying through the VSAS program has been suspended for 2020-21 until further notice.

We are committed to resident-centered education and provide the resources and flexibility to help you reach your full potential. Come share our passion for Family Medicine at UMass!
Virginia Van Duyne, MD
Program Director
Click the blue button below to join our e-mail information list!
Take a look at the new virtual tour of our main University campus as well as a brand-new video about Graduate Medical Education at UMass Medical School.

"Why Worcester" for your residency? Check out a 3-minute clip all about our home city! Worcester was also featured on a 2019

episode

of Boston's local newsmagazine Chronicle.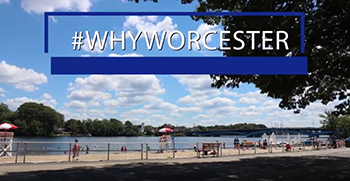 NEWS AROUND THE RESIDENCY
Check out our new residency Instagram!

UMass family medicine resident An-Hoa Giang, MD, and faculty attending Henry Del Rosario, MD, launched a photography project, Workers of Worcester, to document the stories of healthcare and other essential workers as they battled an unprecedented public health crisis and the even more deadly and pervasive evils of structural racism and social inequality.



Claudeleedy "Claudia" Pierre, MD (she/her/hers), family medicine attending and director of perinatal services at Family Health Center of Worcester, has a candid conversation on being a family physician during the COVID-19 pandemic, her experiences with racism, and the fight to address health disparities inside and outside of medicine. Photo by An-Hoa Giang, MD. Read Claudia's story here and look for other stories like hers throughout our website.