Heather Loring of Thompson Lab awarded NIH F31 Fellowship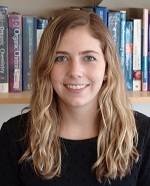 Heather Loring, a second-year PhD student in Dr. Paul Thompson's laboratory, co-mentored by Dr. Celia Schiffer, was awarded a Ruth L. Kirschstein National Research Service Award for Individual Predoctoral Fellow (F31) from the National Institute of Neurological Disorders and Stroke at the NIH to support her doctoral research. Heather's project entitled "A chemical biology approach to studying the role of SARM1 in a novel degradative pathway" is focused on investigating the structure, function and cellular activity of SARM1. SARM1 possesses intrinsic NAD hydrolase activity that is responsible for triggering the progressive neuronal degeneration that defines neuropathies, traumatic brain injury and neurodegenerative diseases. This poses SARM1 as an attractive therapeutic target for these diseases; however, its therapeutic utility is currently limited by the dearth of knowledge surrounding this enzyme. Heather's work seeks to illuminate SARM1's structure, enzymatic and cellular activity in the hope that it will facilitate drug development.
Congratulations Heather!
For more about the Thompson Lab, please visit https://www.umassmed.edu/thompson/