Page Menu
Kristina M. Deligiannidis, MD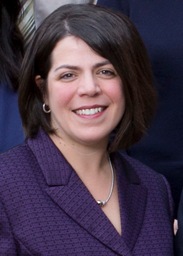 Please note: Dr. Deligiannidis is no longer located in Massachusetts.
Kristina M. Deligiannidis, M.D.,
Adjunct Associate Professor, UMass Chan Medical School
Associate Professor of Psychiatry and Obstetrics & Gynecology (in process), Director, Women's Behavioral Health
Associate Investigator, Center for Psychiatric Neuroscience, Feinstein Institute for Medical Research (in process)
Zucker Hillside Hospital - Kaufman Building
75-59 263rd Street, Suite 103
Glen Oaks (Queens), NY 11004
http://profiles.umassmed.edu/Profiles/display/131308
Dr. Deligiannidis completed her undergraduate degrees and an Honors Scholars Research Program in Neuroscience and Behavior at the University of Massachusetts at Amherst. As a recipient of NIH pre-doctoral Intramural Research Training Awards, she trained in molecular neuroendocrinology research at the NIH/National Institutes of Child Health and Human Development (NIH/NICHD).
Dr. Deligiannidis completed additional research training at the National Institute of Mental Health (NIMH) and NICHD during medical school and residency. She received her medical degree from the UMass Chan Medical School and completed her psychiatry residency and chief residency in psychopharmacology research at UMass Chan Medical School (UMass Chan)/UMass Memorial Health Care (UMMHC). Dr. Deligiannidis is Board Certified by the American Board of Psychiatry and Neurology.
Dr. Deligiannidis conducts translational research in the causes of perinatal depression.
Dr. Deligiannidis's research efforts have been nationally recognized. She is the recipient of: a 2013-2018 NIH K23 Career Development Award, 2014 American College of Neuropsychopharmacology (ACNP) Award, 2014-2016 NIH LRP Award, 2012 Research Career Development Institute (CDI) for Psychiatry Award, 2011 UMass Chan Medical School Center for Clinical & Translational Science (CTSA) Pilot Grant, a UMass Chan Faculty Scholar Award, a 2011 Society for Biological Psychiatry (SOBP) Travel Scholarship Award, a 2010 Worcester Foundation for Biomedical Research Grant; a 2009 NIMH/NCDEU New Investigator Award, APA/APIRE Junior Investigator Awards (2008, 2009) and American Society of Clinical Psychopharmacology/NIMH Clinical Trials in Psychopharmacology Awards (2007, 2008). At UMass, she has received the Early Career Achievement Award in Science and Health (2013) and several teaching awards.
Dr. Deligiannidis actively participates in national scientific committees and gives scientific presentations locally, regionally and nationally. She is an appointed Young Investigator Member of the International Society of Psychoneuroendocrinology (ISPNE) and a member of the Society of Biological Psychiatry (SOBP), the Society of Behavioral Neuroendocrinology (SBE), the Organization for Human Brain Mapping (OHBM), and the American Society of Clinical Psychopharmacology (ASCP). She serves on the Board of Directors of ASCP and on the Editorial Board for the international journal, Acta Psychiatrica Scandinavica, Co-Chair of the Education Committees for both the ASCP and SOBP and is an Early Career Reviewer at NIH.