Page Menu
National Center on Homelessness Among Veterans
| | |
| --- | --- |
| | The mission of the National Center on Homelessness Among Veterans (NCHAV) is to promote recovery-oriented care for Veterans who are homeless or at-risk for homelessness. The Center is a national resource that informs practices designed to meet the VA's Five Year Plan to End Homelessness among Veterans. |
Goals
The primary goal of the National Center on Homelessness Among Veterans is to support both VA and Federal Strategic plans to end Veteran homelessness as outlined in Opening Doors: Federal Strategic Plan to Prevent and End Homeless published by the United States Interagency Council on Homelessness in 2010. The Center aims to achieve these goals by improving the processes and outcomes for permanent housing, health care and quality of life for Veterans who are homeless or at-risk for homelessness.
Bedford Node & UMass Chan Medical School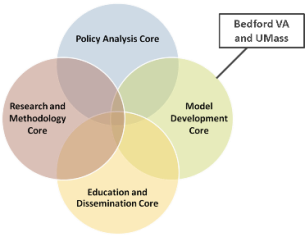 Our research on co-occurring disorders and homelessness at the Bedford Node focuses on understanding more about the prevalence of homelessness and the treatment of mental illness and addiction among Veterans. Specifically, we examine what services homeless Veterans utilize, what programs are most effective, how to best identify Veterans who are at-risk of homelessness, the development of interventions to improve housing stability and how to better engage homeless Veterans with complex and multifaceted clinical needs.

We also seek to identify the factors that predict homelessness among Veterans, develop and implement evidence-based interventions, formulate policy recommendations and disseminate findings. Another goal of our group is to better understand the interchange between mental health comorbidities, homelessness and addiction among homeless Veterans. Within this larger area, we have several areas of expertise including manual development, co-occurring disorders treatment, use of peer support, anti-stigma programming, use of mobile technologies to promote treatment engagement, supported employment/education and criminal justice research.