Page Menu
Year by Year
US Based Global Health Training
Fellows will spend 6-8 months per year at UMass Medical Center, working clinically while receiving research training in either the Research (MSCI) or Public Health (MPH) track, and learning a global health curriculum. Fellows will work approximately 24-32 hours per week, depending on which track they pursue, providing pediatric urgent care services, or working in Emergency Dept or in a hospitalist role. They will spend the remainder of their time pursuing research training through the Graduate School of Biomedical Sciences MSCI program or the UMass/Amherst MPH program.
Fellows will also participate a global health curriculum with monthly seminars on relevant global health topics. At least once per year, they will also present their research results to global health faculty.
Fellows will choose a research mentor who will work to develop a scholarly project, apply for funding and write up final results. Fellows will be closely supervised by faculty both at UMass and at their international site. At the completion of their 2 years of fellowship, they will be expected to complete and present the results of a scholarly project.
Research/Academic Component
MSCI degree program. Fellows have the option to pursue a Masters in Clinical Investigation, which consists of courses in Epidemiology, biostatistics, grant writing, & scientific writing, (link to program)
MPH degree program – fellows have the option to pursue the coursework to complete the Masters in Public Health degree. UMass MPH offers several online courses which fit well with fellows travel schedules. (link to program)
Fellowship seminar- monthly global health lectures and workshops; This curriculum is shared with the Family Medicine Global Health fellows and with Pediatric Social Justice Fellows.
Scholarly Research Project – implementation of a scholarly project and write-up of project. Fellows will present results at National or International meetings.
Teaching Component
Global Health fellows will have ample opportunity to become involved in teaching UMass medical students and residents in the field of global health. UMass Medical School is well known for its Global Health Pathways program, and fellows will be encouraged to teach and mentor medical students in this track. They will also teach and mentor pediatric residents in the residency global health track, both while in the US and while at international sites
International Component
Fellows will work with research mentors at the established global health partners site of their choosing. The following 3 partnerships have worked well for global health fellowship field sites in the past:
Liberia
JFK Medical Center, Monrovia
JFK Medical Center is the National Referral Hospital in Liberia. It is the teaching hospital of the national medical school and is located in the capital city of Monrovia. In this setting, fellows have provided direct clinical service, while teaching and training Liberian house officers and medical students. UMass Medical School has sent many faculty and residents to this site for global health training. Faculty and residents have initiated many quality improvements and clinical projects including the creation of a Pediatric Chronic Illness Clinic, pediatric malaria research, and acute febrile illness studies.
JJ Doessen Hospital, Rural Maryland County
JJ Doessen Hospital is located in Harper, in the rural southwest part of the country, and is supported by the NGO, Partners in Health. In the past, global health fellows have worked with Partners in Health to help provide direct clinical service at this large referral hospital. They have also initiated quality improvement projects such as a program to improve neonatal outcomes through community outreach and initiated a project This is also a rotation site for Liberian Family Medicine residents. This site is ideal for community based research and implementation projects.
Kenya
Michelle Obama Children's Hospital, Kisumu.
Kenya has been a rotation site for UMass Global Health pathways medical students for 10 years. Obama Children's Hospital is a large, tertiary referral hospital, and is an ideal site for global health fellows to provide clinical service. In addition, there are opportunities to visit the rural 'feeder' hospitals around Kisumu. The Kenya Medical Research Institute (KEMRI) research labs are also located in Kisumu, making it an ideal site for clinical research. There are several ongoing research projects that global health fellows can become involved with including studies involving malaria in children, malaria in pregnancy, and infection-associated cancers, such as endemic Burkitt Lymphoma.
India: Bhaikaka University (BKU)
Bhaikaka University (BKU) (formerly known as Charutar Arogya Mandal (CAM)) is a charitable trust that operates an 800-bed tertiary care center, Shree Krishna Hospital, and medical school, Pramukhswami Medical College, in rural western India. Located in the Anand district in the state of Gujarat, BKU serves rural community comprised of over 150 villages where agriculture and dairy production are the primary economic means.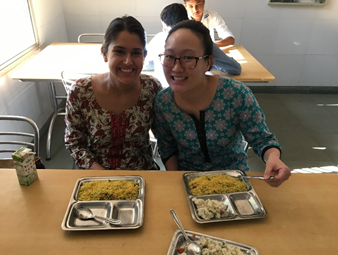 BKU's mission is to care for the underserved of the community and train the next generation of health care providers for rural India. To support this mission, BKU developed Central Research Services and Community Extension Department to focus on improving the health of the region through community-centered research and service, respectively. Central Research Services supports investigator initiated, community-based research studies and foster a research culture within the institution. The Community Extension Department is dedicated to delivering health programs to the local community. Through this department, BKU has established a network of Village Health Workers who receive training to perform disease screenings and deliver health education. Additionally, BKU operates 7 primary and secondary health centers within the region, which increases access to primary and specialist care among rural communities.
Research and Advocacy for Health in India (RAHI, which is the Hindi word for pathfinder) and Support and Action Towards Health-Equity in India (SATHI, the Hindi word for partnership) are two sister collaborations between the University of Massachusetts Medical School (UMMS) and BKU supported by a formal Memorandum of Understanding. RAHI currently focuses on understanding and reducing health disparities in the areas of maternal and child health and noncommunicable diseases through several research studies and programs. SATHI supports bilateral capacity strengthening activities, including trainee-exchange, structured mentorship, and seminars on research and teaching methodology.
Throughout the course of this nearly 10-year collaboration, there has been robust bilateral exchange between UMMS and BKU that centers on community health research projects that promote health equity and capacity building. Trainees from UMMS and BKU at the levels of medical students, residents, and global health fellow have engaged in exchange opportunities spanning a wide range of research focus areas and clinical specialties. Residents and fellows from UMMS who participate in this collaboration have opportunities to partner with faculty and trainees from BKU to develop and implement community engaged research studies, shadow in clinical settings, and engage in community health outreach programs.
Fellowship Year 1: July 2021 – June 2022

MSCI Track

MPH or Non -Degree Track

Clinical:

Clinical Obligation 24 hrs/ week for 8 months

Pediatric Urgent care clinic
Emergency Dept Urgent care
Hospitalist Coverage

Clinical Obligation 32 hrs/ week x 6 months

Pediatric Urgent care clinic
Emergency Dept Urgent care
Hospitalist Coverage

Academic:

MSCI Courses Fall 2021 (in person)

Fellowship Seminars

Project Development with Research Mentor

MPH coursework fall 2021 (in person or online)

Fellowship seminars (in person or online)

Project Development with Research Mentor

Teaching:

UMMS Pediatric GH Track (residents)

UMMS Global Health Pathways (medical students)

Clinical teaching at Abroad Site

UMMS Pediatric GH Track (residents)

UMMS Global Health Pathways (medical students)

Clinical teaching at Abroad Site

International Experience:

Abroad 4 months per year while not in MSCI classes:

Possible travel times in year one:

July/August/January/May/June

Abroad 6 months per year

January – June 2022
Fellowship Year 2: July 2022 – June 2023

MSCI Track

MPH or Non -Degree Track

Clinical:

Clinical Obligation 24 hrs/ week for 8 months

Pediatric Urgent care clinic
Emergency Dept Urgent care
Hospitalist Coverage

Clinical Obligation 32 hrs/ week x 6 months

Pediatric Urgent care clinic
Emergency Dept Urgent care
Hospitalist Coverage

Academic:

MSCI Courses starting Fall 2021 (in person)

Fellowship Seminars

Project Development with Research Mentor

MPH coursework starting fall 2021 (in person or online)

Fellowship seminars (in person or online)

Project Development with Research Mentor

Teaching:

UMMS Pediatric GH Track (residents)

UMMS Global Health Pathways (medical students)

Clinical teaching at Abroad Site

UMMS Pediatric GH Track (residents)

UMMS Global Health Pathways (medical students)

Clinical teaching at Abroad Site

International Experience:

Abroad 4 months per year while not in MSCI classes:

Greater flexibility with travel dates in year 2

Abroad 6 months per year

January – June 2023