Page Menu
Enhancing Health & Science Education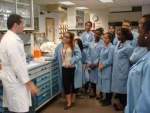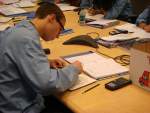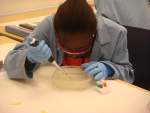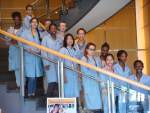 Because of our public service mission, UMass Chan Medical School has a strong commitment to public education and dedicates substantial resources to strengthen K – 16 education in Worcester and the region. UMass Chan Medical School and our partners carry out a myriad of programs to increase the number of under-represented and disadvantaged students entering careers in health care and biomedical research. Through mentoring, job shadowing, internships, laboratory opportunities, after-school science programs, visiting-scientist programs and academic support for students, each year hundreds of young people from our community are exposed to the excitement and opportunities that health and science careers bring.
The Worcester Pipeline Collaborative, a partnership between the Medical School and the Worcester Public Schools is a national model of teamwork among many constituents to prepare, educate and train a health care workforce that reflects the community's diversity.
A collaboration among institutions of higher education, nonprofits, businesses and public schools that promotes K-12 math and science education for students and teachers is certain to enhance current and future workforces. The Central Massachusetts STEM Network is one such collaboration that illuminates the possibilities that exist when science, technology, engineering and math (STEM) are embraced.
Started in 1993 and funded by the NIH and UMass Chan, the Fellowship Program strives to diversify the pool of biomedical researchers and attract underrepresented groups through hands-on experience and exploration. More than 230 undergraduate students from the local community and around the country have participated in the Fellowship Program since its inception, and 76 of those students have gone on to pursue biomedical research at the graduate school level, enroll in medical school or join the ranks of professionals in research laboratories. At UMass Chan, three former fellows have enrolled at the Graduate School of Biomedical Sciences (GSBS) while approximately 20 others have entered the School of Medicine.
The goal of UMass Chan Medical School's Regional Science Resource Center is to support, encourage and provide expertise and materials to raise achievement levels of all students in science, mathematics and technology through student-centered, inquiry-based learning. We leverage the expertise and resources of the Medical School to help us accomplish these goals, including by providing ongoing professional development for teachers, focused on the practice of teaching and centered on the classroom .
In collaboration with our clinical partner, UMass Memorial Health Care, Worcester Public Schools and the City of Worcester – together we host the Annual Health Care Career Expo. The Expo is designed to introduce area and regional high school students to a variety of careers in the health care industry as well as alert them to local resources and opportunities for training and education.