Page Menu
Banana Blueberry Bread
3 very ripe bananas
Juice of one lemon (or 1/4 cup reconstituted)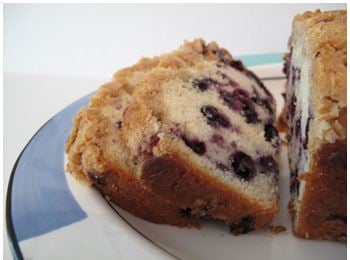 1/3 c. oil (or Smart Balance)
1/2 c. brown sugar
1/2 c. wheat germ (or ¼ cup wheat germ & ¼ cup flaxseed meal)
1/2 tsp. baking soda
1/2 tsp. baking powder
1/2 tsp. salt
1 1/2 c. whole wheat flour
1/2 c. chopped nuts (optional)
1 cup blueberries
Mash bananas and add lemon juice. Mix oil and sugar. Add to banana. Mix dry ingredients. Add to banana mixture. Stir in nuts and raisins. Bake in greased loaf pan at 350 degrees for 50 to 60 minutes. Recipe may be doubled.
Very good and nutritious.
Adapted from The New Laurel's Kitchen
Makes 8 servings.
Per serving(137g):
340 calories, 15g fat, 1.3g sat fat, 49g carbohydrate, 6.6g protein, 6g fiber.