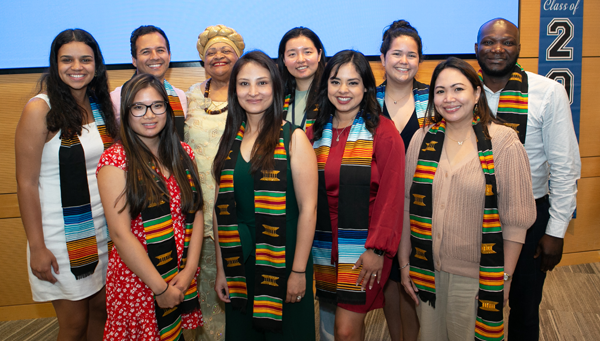 The UMass Chan chapter of White Coats for Black Lives and the Diversity and Inclusion Office presented vibrant stoles to graduating students of color at the Deborah Harmon Hines, PhD, Commencement Celebration on Friday, June 2.
Students from the T.H. Chan School of Medicine, the Tan Chingfen Graduate School of Nursing and the Morningside Graduate School of Biomedical Sciences chose from two stole options made of Kente fabric from Ghana, West Africa, to wear at UMass Chan's 50th Commencement.
While this UMass Chan tradition was established in 2021 by Abiola Ogunsola and Zach Dyer, MD/PhD students and co-presidents of the UMass Chan chapter of White Coats for Black Lives, this year the ceremony was named in honor of Dr. Hines, who retired as vice provost for school services and professor of radiology and nursing in 2017.
"Something isn't real until it has a name," said Marlina Duncan, EdD, vice chancellor for diversity and inclusion, as she kicked off festivities. "This ceremony needed to have a name that exemplifies what it means to get to this level of success from an underrepresented and marginalized background. What name would exemplify strength, passion, perseverance, community and love? What name exemplifies that your dreams are no longer differed? That name is Dr. Deborah Harmon Hines."
Each student who received stoles offered remarks on their time at UMass Chan, with many crediting Dr. Hines for her influence. Hines, who received two standing ovations, is credited with establishing the Worcester Pipeline Collaborative with the Worcester Public Schools to increase the number of students from underrepresented groups and disadvantaged backgrounds entering careers in biotechnology, biomedical research and the health professions. Many in the crowd were emotional as students discussed how Hines had touched their lives. Following these remarks, Dr. Hines offered her thoughts.
"I can't tell you the emotions I've been going through because I remember an incident with each and every one of you," said Hines. "Sometimes we'd cry and we laughed a lot; it's been a roller coaster. Let me just say, thank you. It's very humbling but gratifying to see the fruits of your labor. My family never understood what a PhD was. They'd say, 'So they call you doctor, but you don't see any patients. You're not a real doctor.' I'd say, 'I make doctors for a living.'"
Four students received inaugural Deborah Harmon Hines, PhD, Awards: MD/PhD student Abiola Ogunsola, Kelly Garcia, DNP '23, medical student Uchechi Nna and PhD candidate Cesar Bautista Sotelo.