Joint statement from Michael F. Collins, MD, chancellor and senior vice president for the health sciences, UMass; and Terence R. Flotte, MD, executive deputy chancellor, provost and dean of the T. H. Chan School of Medicine, on the death of Michael Green.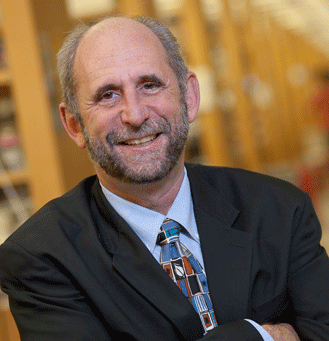 It is with deep sadness that we share that Michael Green, MD, PhD, vice provost for strategic research initiatives, professor and chair of molecular, cell & cancer biology and a highly regarded and beloved colleague, has died. Dr. Green was among the most distinguished biomedical research leaders in our academic community and, indeed, across the nation. He has been an integral leader of and contributor to the growth and preeminence of UMass Chan's research enterprise, serving also as director of the UMass Cancer Center, co-director of the Li Weibo Institute for Rare Diseases Research and as the Lambi and Sarah Adams Chair in Genetic Research.
An investigator of the Howard Hughes Medical Institute from 1994 to 2018, Dr. Green was an elected member of three of the world's most prestigious academies: the National Academy of Sciences (2014), the National Academy of Medicine (2015) and the American Academies of Arts and Sciences (2018), in addition to the European Molecular Biology Organization. His own scientific career has been devoted to deepening our understanding of the mechanisms that regulate gene expression in mammalian cells and how alterations in gene regulation cause and impact cancer and a wide range of other human diseases.
He sought to extend the potential impact of scientific discoveries by sharing his expertise beyond UMass Chan, including by serving as a scientific co-founder of Fulcrum Therapeutics, a company launched in 2016 that aims to develop therapies for gene-based diseases.
Dr. Green earned his MD and PhD degrees from Washington University School of Medicine in 1981 before carrying out his postdoctoral work at Harvard University, where he joined the faculty in 1984. In 1990, he joined the Program in Molecular Medicine at UMass Chan and in 1999 became director of the Program of Gene Function and Expression, which, 15 years later, merged with the Department of Cancer Biology. Dr. Green was then appointed chair of the new Department of Molecular, Cell & Cancer Biology.
He was an avid fisherman, often launching into the waters off Woods Hole, and made the most of his catches through his culinary creativity.
Undoubtedly, the loss of Dr. Green is deep and painful for those of us who have worked with him, learned from him and come to respect his diverse skills, sense of humor and countless contributions to the UMass Chan and broader scientific communities over the last four decades.
We know that all members of the UMass Chan community join us in extending our deepest sympathies and condolences to Maria Zapp, PhD, his wife and a longstanding member of the UMass Chan faculty; Dr. Green's brother, Eric Green, MD, PhD, director of NIH's National Human Genome Research Institute; sister, Wendy Lee, MD, a retired pediatrician; his extended family; colleagues; and friends.
Services will be private. The family suggests that any memorial gestures be directed to the following charities that Dr. Green valued: Boylston Public Library Foundation (www.boylstonlibrary.org), Worcester Animal Rescue League (www.worcesterarl.org), Buzzards Bay Coalition (www.savebuzzardsbay.org), Cape Abilities (www.capeabilities.org), and Mass Coalition for the Homeless (www.mahomeless.org).
UMass Chan will host an event honoring Dr. Green's legacy at a future date and will share additional information when it becomes available.